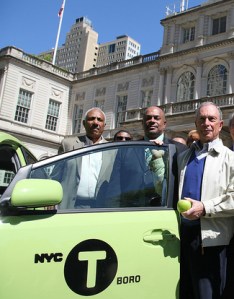 "Apple Green" taxis will soon be traveling the streets of the outerboroughs and Upper Manhattan that have long been ngelected by yellow cabs. Mayor Michael Bloomberg unveiled the bright new "Boro taxis" at a press conference at City Hall this morning accompanied by Taxi and Limousine Commission Chairman and Commissioner David Yassky who described the new color scheme as "pleasing to the eye."
"Apple Green is very fitting for the new Boro Taxis," Mr. Yassky said. "It's pleasing to the eye, easy to see from a distance and blends well with the urban landscape. Just as the yellow taxi and the black car were once new services that became a trusted part of their users' lives, the Boro Taxi, too, will take its long-awaited place as a part of the city's comprehensive transportation network."
In the past, yellow cabs were the only ones legally allowed to pick up passengers on the street. New legislation approving 18,000 of the "Boro taxis" was backed by Mayor Bloomberg and became law in February. Last week, the TLC approved regulations for the new "Boro taxis," which will be able to accept street hails outside of Manhattan and above East 96th and West 110th Streets.
"For decades, the goal of bringing better taxi service to residents and visitors outside of Manhattan eluded the city," Mayor Bloomberg said. "With our legislation to bring taxi service outside of Manhattan becoming law, at long last New Yorkers in all five boroughs will have safe, comfortable, less costly and legal street hail service as Apple Green Boro Taxis will begin appearing on our streets. The new Apple Green vehicles will bring thousands of hard-working livery drivers out of the shadows and into the legal economy."
Boro taxi permits will start being made available to drives on May 29. The permits cost $1,500 each.
Check out more pictures of the new Boro taxis below.