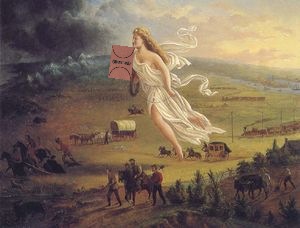 Grantland lands a New Yorker from inside Conde Nast, but not The New Yorker, though I eagerly await Jeffrey Toobin's oral history of My Cousin Vinny when they do. Elsewhere, James Murdoch is on the stand, CJR is on the move, media "analysts" are on "TV", and the Wall Street Journal is on the Pulitzer-pipe. Here are your Tuesday afternoon Media Briefs:
Manifest Fennessey: The Bill Simmons run and ESPN-bankrolled playpen of top-notch writing talent, Grantland, has plucked their newest editor straight from the depths of Conde Nast: Sean Fennessey, the web editor at GQ—or, more simply, the editor of GQ.com—is a young man headed west. He'll be joining Grantland as an editor. Slightly late to this one, but of note no less: prior to GQ, Fennessey was a music editor at Vibe and worked on the editorial side of eMusic.com, when not writing for the likes of the Village Voice, Pitchfork, Rolling Stone, and Vulture. All career passport stamps and plaudits aside, Fennessey is well-regarded by colleagues and known as nothing but a nice guy. New York's loss is LA's gain. Finally we could refrain from being all "called it," but it's Tuesday so whatever: Media Poachable, Class of 2011, turn your tassel, you just got paper'd up.
Off-Campus Housing: The Columbia Journalism Review is moving downtown, off of Columbia's campus, reports Capital New York. The offices will supposedly be better. They are in Times Square. From someone who works in Times Square, let me welcome you to the area by reminding you that there is no more an anxiety-inducing part of this city to commute to short of Rikers Island, and that your health will legitimately suffer for it.
The James Games: Under questioning by the government in Foggy London Town, James Murdoch continues to try to throw Colin Myler under the bus.
Portrait of a Terry Complicated Relationship: Here is a rare picture of notorious New York photographer Terry Richardson and his girlfriend of somewhere around a year, Audrey Gelman, posted to Richardson's blog. Why are there so few pictures of them? Ms. Gelman has an image to manage. Not hers, of course, but that of her boss: Manhattan borough president Scott Stringer, widely considered a contender in the 2013 New York City mayoral election. She's his press secretary. Stringer might be able to pull the likes of Scarlett Johansson to support his campaign, but Gelman doesn't do too bad with her own press: We hear the good friend of Lena Dunham has a cameo in the first season of HBO's Girls.
Daily Boos: The NY Daily News just unleashed new social media guidelines unto their staff. Enjoyable moment: "Beat reporters and editorial staff who cover particular areas may not maintain personal blogs or social media accounts focusing on the areas they cover." Then: "Using a personal blog or social media account to link to Daily News content is permitted." How kind of them! Also, Patrick Gavin at Politico has a nice catch on this.
An Idea For Financing The New York Times Involving People With Money: Friend of The New York Observer Felix Salmon (also a Reuters columnist) has an idea for making money, if you are the New York Times. He asks: "How much would hedge funds pay to be able to see the NYT's big investigative stories during the trading day prior to the appearance of the story? It's entirely normal, and perfectly ethical, for news organizations, including Reuters, to give faster access to the best-paying customers." This is Felix Salmon, trying to troll a lot of people. It is fun.
Weekday With Bernie: Watch Bernie Goldberg take a shot at the Washington Post's Erik Wemple on TV, questioning Wemple's credibility. Bernie Goldberg is a media analyst whose desperate need for vanity is so strong that he is willing to go on Fox News and tow their hyper-euphemistic "Fair and Balanced" tagline as an ostensibly objective media analyst so long as they let him say things on TV, because going on TV is, to some reporters, a really validating thing. Erik Wemple has the whole of Bernie Goldberg's credibility in his deformed left hand (if Wemple's left hand were deformed).
Pulling for Pulitzer? After the Wall Street Journal was mostly snubbed by the Pulitzers (again), something we're told the Journal editors ostensibly don't care about (again), Pulitzer-winning Washington Post reporter James Grimaldi told Jim Romenesko that not only did he take a buyout from the Post, but also, a gig at the Wall Street Journal as a senior writer. And that is how you take a buyout.
Rocket Fuel: Here is a picture of The Daily's own Media Bachelor Hall of Famer and digit-al lovemaking expert Justin Rocket Silverman's desk. Looks about right.
Media folks of New York, don't forget to donate your job-related id and ennui to the needy.
fkamer@observer.com | @weareyourfek