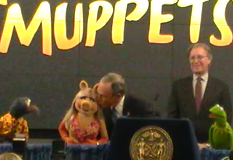 Mayor Michael Bloomberg held a Muppet-themed press conference earlier today where he announced that the Muppets will be "the official NYC Family Ambassadors" in 2012, but all the action was the romantic tension between Mr. Bloomberg and one of the Muppets, Miss Piggy.
"Can I throw Miss Piggy a kiss, because we're friends?" Mr. Bloomberg asked before bending over and planting one on Miss Piggy's cheek.
Ms. Piggy asked how the kiss compared with Mr. Bloomberg's famous smooch with Lady Gaga, to which Mr. Bloomberg quipped "I never kiss and tell."
However, a relentless reporter later asked Mr. Bloomberg again how the two kisses compared.
"They were both wonderful," he responded.
"Very diplomatic of you," Kermit the Frog commented to the Mayor.
"A kiss with Diana is better," Mr. Bloomberg made sure to add. "Just to get me through the evening."
Watch the exchange below, and the full press conference beneath that: