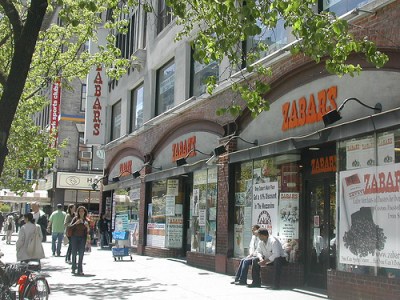 Can you legislate a storefront? That is what the Upper West Side is hoping. For more than a year, the Department of City Planning worked at a plan to rezone a swath of the once tawdry, now tony neighborhood, to protect the retail character on its main shopping strips. The plan, which has been opposed by local landlords, just won the conditional support of Borough President Scott Stringer.
"While the area has benefited from a significantly low commercial vacancy rate and a variety of smaller scale retail, many residents have expressed concern about recent trends to assemble large commercial spaces," the borough president wrote in his approval letter to the Department of City Planning, which is provisional though closely followed. He wrote that these assemblages of large retail spaces have created lasting vacancy and a lack of diversity for local retail.
City Planning seeks to limit the size of retail frontage on Amsterdam and Columbus avenues and on Broadway, with a particular emphasis on limiting banks and apartment building lobbies. There is also a minimum number of storefronts per block, depending on size, and new storefronts are required to maintain a certain level of transparency. No blank or homogenous walls, in other words.
Channeling Jane Jacobs, Mr. Stringer wrote that "the ground floor experience is one of the most important aspects of a neighborhood's character," and that improving the streetlevel activity would "discourage crime, engage pedestrians, and contribute to a neighborhood's healthy economic growth and vitality."
Among the details the borough president would like to see changed in the coming months as the Department of City Planning and the City Council debate the plan is shallower storefront requirements, to allow for flower shops, book keepers and other stalls; the possibility for wider lobbies, up to 25 feet from a proposed 15; special provisions for landmarks; a community-board led approval process for exceptions, should they be deemed to the benefit of the district; and a clearer definition of those establishments regulated by the program, so as to protect the rezoning from legal challenges.
These changes did not hearten landlords who have been resolved to oppose the plan.
"It is hard to imagine a more flawed policy than this one which replaces measuring storefronts for an economic stimulus," the Real Estate Board of New York, one of the rezoning's chief opponents, said in a statement. "Market conditions, and not a government bureaucracy, should determine where tenants locate." The board argues the move will effect long-time retailers who want to relocate and expand as much as it might keep out new ones.
Nancy Ploeger, president, Manhattan Chamber of Commerce, already fears the program, which has a predecessor on the Upper East Side, could spread like retail wildfire across the city.
"Too bad the Borough President wasn't willing to take a stand for small businesses," she said. " Unfortunately it seems pretty clear this idea is already spreading to other neighborhoods."