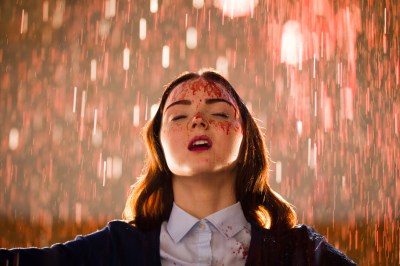 Directed by Mary Harron, who picks unusual subjects (American Psycho, I Shot Andy Warhol and The Notorious Bettie Page) and follows through with drive, focus and a relentless devotion to drawing fine lines between the real and the imaginary, The Moth Diaries is a horror film with a difference. It exudes more emotional intensity than mere things that jump out of closets and go bump in the night.
The setting is Brangwyn College, a former hotel turned into an elite boarding school for proper young ladies, in the middle of a forest where weird things are happening among the mushrooms and moss vines. The action centers on two students in particular—athletic, brooding Rebecca (Sarah Bolger), who is still brooding over the suicide of her poet father, and her best friend, Lucy (Sarah Gadon), the innocent, impressionable object of Rebecca's ardent affection. Enter Ernessa (Lily Cole), a strange and exotic foreigner who exudes an air of authority and an essence of tragedy and romance. When Lucy develops a crush on the newcomer, Rebecca's happiness is threatened and her attention is diverted to Mr. Davies (Canadian heartthrob Scott Speedman), the handsome, sexy new English teacher with a special interest in supernatural literature. Eerie things happen and Rebecca records her fears and suspicions in her diary as the moving shadows and drops of blood start to parallel a gothic novel called Carmilla, which she is studying in class. The more she immerses herself in the book, the more she suspects that Ernessa is a vampire and former guest when the school was a hotel who has returned from the coffin to wreak havoc on her old haunting ground. Mr. Davies gets the girls hot as brandy, stimulating them with the three tenets of vampire lore—sex, blood and death. Ernessa paces the grounds at night, barefoot, and never eats. Lucy becomes her slave, ignoring Rebecca. A sickly sweet smell emanates from her room. One girl is expelled. Another girl plunges from the roof. Lucy grows pale and weak, dark circles under her once radiant eyes. The fresh flowers in her hospital room wilt immediately. Is she turning into a vampire like the beautiful but damned Lucy in the Dracula saga? Or is it Rebecca's overstimulated imagination? One day, when Rebecca develops a nose bleed, Ernessa erotically licks the blood off her finger. The stage is set for a lurid tale that crosses Bram Stoker with Charlotte Brontë. Bring on the garlic wreaths and hide the mirrors!
Based on a novel by Rachel Klein that was all the rage among teenage girls dizzy from the psychosexual neck-biting fever of the Twilight franchise, director Harron's script, related in the first-person narrative of an impressionable 16-year-old, embraces vampirism as a metaphor for adolescent lust and the loss of virginity, blending Sapphic desire with a suspense that is too leaden to sustain much interest, even for a target audience. The mystery is revealed too early and too conveniently (but not by me). Where are the shivers? The girls are properly fragile, ethereal and neurotic, but the way Ms. Harron gingerly moves them around like porcelain dolls is too careful to stir up much terror. Unlike American Psycho, the movie is too polite for its own good.
rreed@observer.com
THE MOTH DIARIES
Running Time 82 minutes
Written by Rachel Klein (novel)
Directed by Mary Harron
Starring Sarah Bolger, Sarah Gadon and Lily Cole
2/4