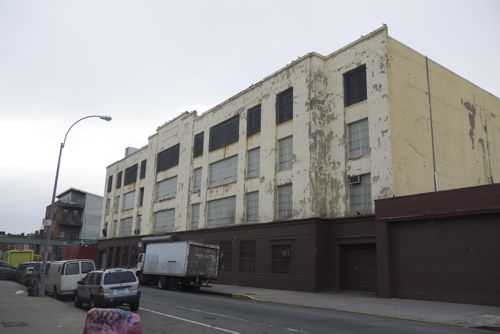 Over the years, Jonathan Butler has covered countless Brooklyn real estate deals and developments—and by extension, the delights and absurdities of living in the borough—for his blog Brownstoner.
Now, he can finally write about his own. Mr. Butler and his partners have paid $11 million for a former Studebaker Service Station on Dean Street in Crown Heights. They plan to convert the 155,000 square-feet of space into a commercial mixed-use development that will house artists and assorted creative types as well as a food hall—a $30 million project, to which Goldman Sachs' Urban Investment Group will contribute $25.5 million. BFC Partners, the developer behind Toren, is also involved in the deal, which was first written about in The Journal and then, of course blogged about by Mr. Butler on Brownstoner.
A promising first step—bringing Selldorf Architects on board to design the space, which should be interesting given Selldorf's success with high/low projects in the past: Manhattan galleries and penthouses, a renovation of the Plaza's famed Oak Room and designing a Brooklyn recycling plant.
Mr. Butler, whom The Observer once outed, is also co-founder the popular (and profitable!) Brooklyn Flea food and funky stuff weekend market. He pointed out in an interview that despite the appeal of the blogger turned developer storyline, he's not exactly an ingenue when it comes to business—he has an M.B.A. from NYU, worked on Wall Street and in the late 1990s bought 125 Maiden Lane in lower Manhattan as part of a joint venture. Speaking of industrious, Brownstoner started as a renovation blog for Mr. Butler's Clinton Hill rowhouse.
"It's certainly not like I've been doing crochet for the last 10 years and am suddenly putting tens of millions of dollars into a building," said Mr. Butler.
Still, it's a big step, "a big building, a lot of money and a lot of people involved."
So why Crown Heights and why this project?
In some ways, it was kind of came down to the building itself, Mr. Butler said.
"When I'm not thinking about the flea market, most of the time I'm thinking about real estate and I'm always thinking about interesting opportunities," he said. "The building caught my eye and started thinking about the numbers a little bit."
The former garage/storage facility is located in a small enclave of commercially zoned buildings, which makes it significantly cheaper than residential or mixed-use areas in the surrounding neighborhood, a neighborhood that's already significantly cheaper than Dumbo, where Brownstoner is based. Another nearby building was recently bought for use as a deluxe storage facility. "Kind of a wasted opportunity in my mind," Mr. Butler said.
But it was other factors, especially the neighborhood's growing population of young, creative professionals, the burgeoning number of businesses on Franklin Avenue that cater to them and the neighborhoods within a one-mile radius (Clinton Hill, Prospect Heights, Bed-Stuy and even parts of Fort Greene and Park Slope) that closed the deal.
"If you look at commercial rents on Franklin Avenue, half a block away, they've basically doubled in the last 4 years, as have the number of restaurants and bars that have opened around there," Mr. Butler said. "We'd love to draw as many people as possible who live in the neighborhood, but it also has proximity to other neighborhoods."
Goldman Sach's Urban Investment Group also thought 1000 Dean, and moreover Crown Heights, had a lot of potential—it's their first investment in the neighborhood, although  Margaret Anadu, vice president of the Urban Investment Group, said another deal for an affordable housing and community facility development is near closing.
"It's a pretty incredible neighborhood where there's been some residential investment yet it still has a fair amount of warehouse space that's underutilized," Ms. Anadu said, noting the abundance of train lines and bike routes leading to the area (bikes!). She described the group's investment strategy as "making catalytic investments in neighborhoods across New York." (Lloyd Blankfein himself traveled to Bed-Stuy two years ago to inaugurate an affordable housing project there.)
As for the development, Ms. Anadu pointed to the demand for light industrial space as well as the low vacancy rates and rising rents in neighborhoods like Dumbo.
"We want to provide a sizable discount from Manhattan and even to other neighborhoods in Brooklyn," Ms. Anadu said. While office space in many parts of Brooklyn costs in excess of $30 per square foot, they were looking to charge in the mid- to low-20s per square foot.
"And it's not just about creative space, it's about shared space," she said. "One thing that's different about these businesses is that they want to be close together… we think it creates synergies that create value."
Or, as Mr. Butler put it, he thought it was most important to create a sense of community, like Brownstoner and the Flea. And besides the artistic community, the food hall should provide a draw.
What's a food hall, exactly?
"Well, it's not particularly evolved at this point, but something like 5 or 6 little kitchens behind counters, a dining/beer hall," said Mr. Butler, struggling to describe it. "More like… well, there's not anything like it at this point."
So it's a fancy food court?
"Mmm," Mr. Butler hesitated. "A food court has such bad connotations. O.K. Maybe a little bit like that."
And he's netted Selldorf Achitects to design the space with optimal flexibility in mind.
"We want the people to be as local as possible and as creative and industrious as possible," he said.
The ideal tenant?
He declined to say. "We're already having discussions with people."
kvelsey@observer.com