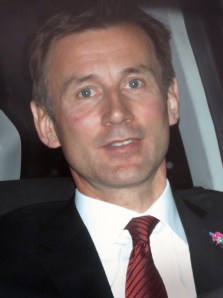 Members of the British government are calling for Tory minister of culture Jeremy Hunt's head, The Guardian reports, after an ongoing media ethics investigation revealed Mr. Hunt's office was in cahoots with the Murdoch clan leading up to News Corp.'s failed bid to take over British broadcaster BSkyB.
Instead, Mr. Hunt's adviser Adam Smith fell on his sword, resigning just an hour before the cabinet minister was scheduled to defend himself before the House of Commons today. There, Mr. Hunt said his actions should be judged by Lord Justice Leveson, who is leading the press probe.
"When posh boys are in trouble, they sack the servants," quipped Labour MP Dennis Skinner.
Emails published by the Leveson Inquiry yesterday suggest Mr. Smith fed News Corp. information regarding government's mood about the proposed takeover, as well as confidential financial information.
Mr. Smith claimed he carried on the cozy communiques with News Corp. lobbyist Fred Michel without Mr. Hunt's knowledge or approval, immediately drawing comparisons to News of the World's now-laughable "rogue reporter" defense. Indeed, Mr. Michel appears to address Mr. Hunt, as "J," in some of the emails.
For example, when phone hacking allegations picked up speed last summer, Mr. Smith wrote that Mr. Hunt had decided to stop all commercial negotiations on behalf of News Corp.
"It's a very punitive decision," Mr. Michel responded, "I feel victimised J."
"By the way, does that mean that you and Jeremy will not be coming to Take That on the 4th July?" he added. Take That is the recently reunited British boy band fronted by Robbie Williams.
For more anecdotal proof of Mr. Hunt's efforts to keep his relationship with the Murdochs under wraps, we recommend Telegraph columnist Iain Martin reminiscence about a spring night in 2010 when he encountered Mr. Hunt lurking outside the after party for a lecture on intellectual property given by James Murdoch. It's straight out of an In The Loop sequel.
Mr. Martin wrote:
"He was obviously looking for the Murdoch drinks party and I could help point him towards it. But he was deep in conversation on his mobile, although he kept looking over towards the door, and the party, behind me. So I decided to just stand there and see what happened. Hunt then moved himself behind the tree so that he was partially obscured.

I wandered back into the party and ran into one of the organisers. The Culture Secretary is out there hiding behind a tree, I said. We know, came the response, but he doesn't want to come in because all the media correspondents are here."