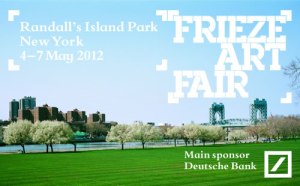 In a letter that was sent to Deutsche Bank and several members of the press Thursday afternoon, the New York City & Vicinity District Council of Carpenters, announced a labor dispute with Frieze Art Fair, the London fair that is preparing to open its inaugural year in New York on Randall's Island. Deutsche Bank is the fair's main sponsor.
The letter claims that Frieze Art Fair "and others like them… do not meet labor standards," using contractors who "do not pay the area standard wages to all their employees including providing or fully paying for health benefits and pension."
The letter to Deutsche Bank continues:
[W]e are asking that you use your managerial discretion to not allow these non area standard contractors to perform any work on any of your projects unless and until they generally meet area labor standards for all their carpentry craft work.

We want you to be aware that our new and aggressive public information campaign against FRIEZE ART INC.  will unfortunately impact all parties associated with projects where they are employed.  That campaign will include highly visible lawful banner displays and distribution of handbills at the jobsite and premises of property owners, developers, general contractors, and other firms involved with projects involving a non area standard contractor.  We certainly prefer to work cooperatively with all involved parties rather than to have an adversarial relationship with them but cannot sit idly by while these entities condone and/or support the non-area standards contractor.
Frieze Art Fair runs May 4-7. A phone call to the New York City District Council of Carpenters and an e-mail to Frieze have not yet been returned. We will update once we have heard anything.
[UPDATE 4/13/12 10:24am] A spokesperson for Frieze reached us by e-mail Friday morning with the following statement:
Frieze is aware of the letter sent by the New York City District Council of Carpenters and would like to reassure everyone that we are not in a labor dispute with them or any other collective bargaining organization. Frieze has a track record of producing high-quality art fairs and has contracted reputable local vendors with the appropriate skills and experience to prepare the Randall's Island site for the upcoming art fair. In our inaugural edition of Frieze New York, we aim to make a positive cultural and economic contribution to the City by creating the best art fair experience for our participating galleries and the public.