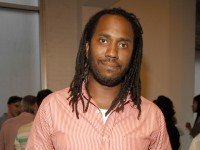 Thanks to New York magazine, we now know how to make it in the art world. It's just what we've always wanted, too, because the real world isn't any fun.
There are a lot of guidelines New York says one should follow that we imagine were intended to come across as way more "tongue-in-cheek" (as New York describes the list) than they actually do. This whole cover package is supposed to be ironic, as evidenced by this kicker from the introduction: "everyone acts like they're overthrowing the system by thriving in it." Get it? Not only is that a statement of irony in and of itself, it is also a means of describing exactly what New York is doing by publishing this feature. The added layer of irony is how the main feature in this sarcastic editorial package about how to make it in the art world is penned by Jerry Saltz, who moonlights from his day job as a Serious Art Critic for New York magazine to appear as a television personality on Bravo's Work of Art, where his role is to earnestly instruct people on how to make it in the art world. Funny!
We're going to focus on Rule No. 4, "Be Young, Post-Black and From Chicago." It comes right after "Make Art That's Difficult to Collect." While other rules include profiles of artists or dealers by employable journalists, this entry carries no byline. Here is the text reproduced in its entirety:
Theaster Gates
38, does urban planning as installation art, was the featured artist at this year's Armory Show, recently signed with London megagallery White Cube, and appeared on the cover of the January–February issue of ArtReview.

Rashid Johnson
34, specializes in wall-mounted sculpture assembled from objects with personal meaning, made a splash by joining global art powerhouse Hauser & Wirth on the eve of its move to a new space in Chelsea, and is on the cover of this month's Modern Painters.
That's it. Two, apparently, makes a trend. Last June, in an article titled "Generation Blank," which covered a certain group of younger artists at the Venice Biennale, Mr. Saltz himself went on record saying that he's not exactly a fan of Mr. Johnson:
Rashid Johnson's mirrored assemblages have luscious physicality but are marred by their reliance on familiar mementos drawn from the recent past. (Unlike his influence, Carol Bove, whose Venice installation of modernist-looking objects opens uncanny windows on seeing, scale, and memory, Johnson uses those objects merely as a crutch.)
In the same article, Mr. Saltz said that art should "enlarg[e] our view of being human." It's hard to say what is meant by "our" besides the un-graspable concept of "humans" in general, and it's harder still to say what "being human" means, but at least Mr. Saltz bothers to do some interpretation as to why Mr. Johnson does not enlarge his humanity personally. To be fair, Mr. Saltz wrote a persuasive piece for the current feature package about artists–including Darren Bader, Liz Magic Laser and Ryan McNamara–who have found success by creating enthralling work against the backdrop of a superficial art world and an inflated market; it was his only contribution to New York's contemporary art issue.
Certainly the art world, as separate from art itself, does not enlarge anything but egos and wallets–which is part of the point of New York's whole cover package–but does that give the magazine any excuse to be thoughtless? Would every reader of New York be aware that post-black is a label slapped on young black artists stemming from a 2001 group show at the Studio Museum in Harlem called "Freestyle" in which the participating artists were "adamant about not being labeled 'black' artists, though their work was steeped, in fact deeply interested, in redefining complex notions of blackness?" Would they know that Theaster Gates was not included in this exhibition? Would it maybe have been worth mentioning that the director of the Studio Museum, Thelma Golden, who says she coined the term with the artist Glenn Ligon, has gone on record in this newspaper saying "post-black" was meant simply as a way to frame the "Freestyle" exhibition in particular?
We're pretty big fans of sarcasm around these parts (note the exclamation of "Funny!" that we made earlier in this post), but being "tongue-in-cheek" is never an excuse to be lazy.