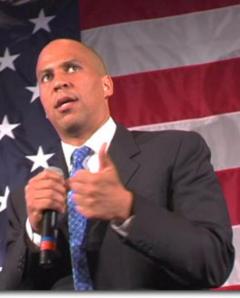 Newark, New Jersey's tireless mayor Cory Booker is in the hospital tonight, suffering from smoke inhalation and second-degree burns. Mr. Booker acquired his injuries around 9:30 p.m. Thursday as he returned home from a television appearance. One of his security guards saw a fire in a building on Hawthorne Avenue in Upper Clinton Hill. Mr. Booker's guards rose to the occasion, but the mayor realized their work wasn't done and cape madly flapping, gold "M" emblem glinting in the firelight, he dove into action:
…[An] elderly man was inside trying to put out the fire, which had started in the kitchen.

After the security detail pulled him from the house, Booker arrived, dashing upstairs with other members of his security detail and yelling for the woman in the building.
Mr. Booker's guards tried to hold him back from the conflagration but summoning an additional reserve of mayoral super powers he insisted, "She is going to die, she's going to die," and barreled through the fire. Moments later Mayor Booker emerged, the imperiled woman in his arms.
Mr. Booker later tweeted thanks to everyone involved in the rescue and wrote "We got the woman out of the house […] I will b ok."
In other words, just another Thursday night as usual for Mayor Cory Booker. What the hell did you do?