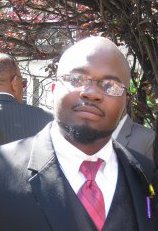 Terry Hinds, an attorney and chair of Community Board 17, will officially declared his candidacy for the State Assembly on Brooklyn45 tonight, an email advertising the television program excitedly announced earlier this evening. Mr. Hinds also confirmed his intentions over Twitter.
The opponent he's seeking to unseat is veteran Assemblyman Nick Perry, who's served in his Central Brooklyn Assembly district for almost two decades. It's not  immediately clear what his campaign platform will be, but the Brooklyn45 email says he will discuss "why he is challenging the incumbent and about some of the needs of the community that he will focus on meeting when he is elected."
Mr. Hinds' interest in the seat was already established, but the move tonight officially sets up a potentially competitive primary, depending on how much momentum he is able to build behind his candidacy.
Mr. Perry's name has also been thrown in the mix for the 2013 Borough President's race to replace Marty Markowitz, a competition that entered the limelight earlier this afternoon when Mr. Markowitz's preferred successor, Carlo Scissura, announced he was bowing out.