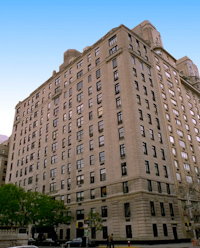 While some residences linger on the market for years, changing prices and waiting in vain for a buyer to come along and love them, others are pounced on almost immediately. The penthouse that once belonged to billionaire Teddy Forstmann is one such case. Not only was the Upper East Side co-op apartment at the center of a bidding war, but it wasn't even listed publicly!
The multi-floor spread at 2 East 70th Street is in contract for $40 million—a nice chunk of change, especially considering the $36 million ask, according to the Olshan Luxury Market report (the pending sale was first noted in a Crain's).
The apartment, along with a Southampton mansion, are being sold by Forstmann's estate following the private equity pioneer's death last year from brain cancer.
The penthouse is located in a tony building built in 1927 by Rosario Candela. And while details about Forstmann's place remain hazy given the lack of listing,  we're going to go out on a limb and say it's probably a pretty stunning if it sets off a bidding war at $36 million.
The New York Post, which first reported the secret listing, describes a 4,000 square-foot luxury apartment spanning two floors, with the master bedroom suite and formal library/sitting room upstairs and two other bedrooms downstairs. Also included: a wraparound terrace with views of Central Park, the Frick and Fifth Avenue. The apartment is reportedly being sold by Sotheby's brokers Serena Boardman and Meredyth Smith, who did not return calls seeking comment.
So who will be the next resident of this probably breathtaking penthouse? Rumor had it that casino king Steve Wynn was very, very interested in the apartment. But the buyer, like so many other things, remains a mystery for now.
Not included with the apartment: the love of Padma Lakshmi.
kvelsey@observer.com