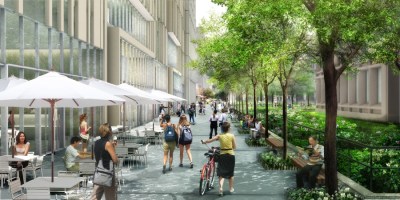 New York University is working fervently to win support for its major campus expansion in Greenwich Village. The school has lined up the support of the mayor, the real estate industry, construction unions, local businesses, even most of the city's editorial boards, including a powerful vote of confidence from The Times. Still, Manhattan Borough President Scott Stringer has expressed skepticism toward the project, which he would like to see reduced in size, and the community panned the rezoning outright.
To help makes its case, NYU recently retained Ed Wallace and Melinda Katz, two land-use attorneys who have helped shape a number of important development projects as they wended their way through public review—not least because both of them also once spent time as members of the  City Council, the body that will have the ultimate say on NYU's rezoning.
"I've worked on Columbia and Fordham, so there's a little bit of a track record, you could say," Mr. Wallace told The Observer today. Indeed, he was instrumental in winning approvals for both campus expansion—including negotiating with Borough President Stringer. The two have what has been described as a friendly relationship. Mr. Stringer is expected to make his recommendations on the project this Thursday.
"He's the great unifier," Democratic consultant George Arzt said of Mr. Wallace.
Mr. Wallace served as the councilman-at-large for Manhattan and chief of  staff to the council president back in the old days of the Board of Estimate, after which he joined Mort Zuckerman's Boston Properties before moving over to Greenberg Traurig, the law firm where he is now co-managing partner of the New York office. Ms. Katz joined the firm in 2010 as a partner in the real estate division after serving two terms in the council, one of which was spent as chair of the influential land-use committee, where she oversaw a number of redevelopments similar to NYU's.
John Beckman, a spokesman for NYU, said the two attorneys were an important part of the university's ongoing development of its new campus. "We've brought in a lot of people with expertise in various aspects of planning, land-use, architecture, the law, etc," Mr. Beckman said in an email. "All have been involved in helping us shape our plan as we've moved forward."
Mr. Wallace welcomes the challenge. "As a general proposition, I think you know my checkered past, from working at the council and the private sector, but this ULURP process and its succession of reviews, it's something I'm pretty familiar with at point" Mr. Wallace joked.