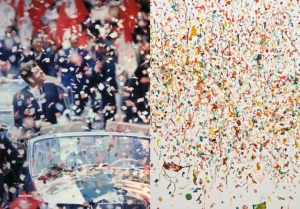 Aaron Bondaroff—a k a A-ron, the Downtown Don, a k a one of the co-founders of Ohwow art gallery, a k a "the original 30-something LES hipster," as Gawker put it—is entering politics. Ohwow is teaming with the chic political group Downtown for Democracy to publish a small pamphlet called the Pocket Guide to Politics. It will be released on May 1, and Dan Colen, Aurel Schmidt and Terry Richardson are involved.
D4D and OHWOW note that only 21 percent of 18 to 24 year olds voted in 2010. So they are tackling that issue Hipster-Runoff style. The book's introduction reads: "We've heard all the excuses," "'I'm just not political,' 'It doesn't matter who wins,' and 'Things are really crazy for me this week.'" No matter how crazy your week is, the Pocket Guide aims to ensure that you contribute to the political process.
Terry Richardson provides a photograph to accompany text about the executive branch. Andrew Kuo visualizes America's political apathy with one of his trademark graphs. Josh Safdie offers a straight-talking, hand-written interpretation of the Bill of Rights: "Congress cant tell you who to pray to, cant keep you from saying whatever you want, publish whatever you want & they cant stop you from meeting or protesting in peace (in tents is a different situation) [sic]."
D4D's previous efforts in the political realm include a benefit auction at Phillips de Pury & Co., the "Liberty Fair" in Chelsea with booths run by blue-chip artists like Cecily Brown and Brice Marden and a voter registration drive deejayed by the creator of Hedwig and the Angry Inch.
No doubt there will be a killer launch party.