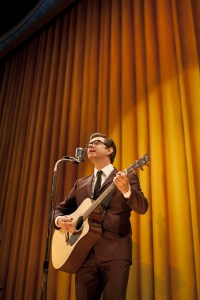 Grant Olding knows how to bow, and he's willing to teach Americans. Over the past three weeks, the British composer of the West End smash One Man, Two Guvnors has been transforming a quartet of American youngsters into the Craze, a British rock group circa 1963. He has tailored their accents, poured them into purple suits and taught them that quick, self-effacing bow best known from YouTube clips of the Beatles at Shea Stadium.
As he explained last week, during a break from rehearsal, "It's a very specific bow."
When the audience marches into the Music Box theatre on Friday, April 6, to watch One Man's first Broadway preview, Mr. Olding's band will be there to play them into their seats. The band is on stage for most of this slapstick, seaside farce, setting the scene with hard-driving British rock, a style called skiffle whose blues and country roots make it familiar to American ears. The London-based part of the team—which includes the director, playwright and most of the cast—began rehearsing here on Tuesday, allowing just three days before previews to bond with their American colleagues. If One Man, Two Guvnors is to replicate its London success, the Craze will have to learn quickly.
Such a short rehearsal period, which might doom some plays, suits One Man. Based on the 1743 play Servant of Two Masters, its roots are in the Italian commedia dell'arte, a low-brow style marked by musical interludes and improvisation. One Man maintains that form, ignoring the fourth wall in favor of the kind of audience interaction that calls on the improvisational chops of star James Corden. In London, this has led to moments of unscripted absurdity, as when Mr. Corden begged the audience for a sandwich and was pelted with an eight-pack of pork pies. Speaking with The Observer over the phone from England, playwright Richard Bean called it "Benny Hill humor."
"It's kind of Benny Hill plus," he qualified. "It's got the artistic pretensions of commedia dell'arte, so it's got some legitimacy, but one has to remember that commedia dell'arte was the lowest form of comedy at the time."
One Man is not a musical—the band plays before curtain, at intermission, and between scenes—but the Craze matches the show's ragged spirit. Though tightly rehearsed, they grin like they've never been on stage before, smirking like Paul and jerking their heads like Ringo. Comparisons to the Beatles are apt. Like many giants of British rock—Jimmy Page, Van Morrison, the Kinks—the Beatles started as a skiffle band, racing through American country standards as the Quarrymen. Skiffle, said Mr. Olding, "was a great training ground for how to be in a band."
"It was kind of the punk of its day," he said. "These songs were all three-chord songs. You just bashed through them on the street corner. The playing wasn't accomplished, but the energy was incredible."
Because all a skiffle band needed was, as Mr. Olding put it, "an acoustic guitar, a washboard, and a tea chest with a broom-handle," it's been estimated that at the height of the late '50s "skiffle craze," there were as many as 50,000 such combos in Britain. (And many mothers wondering where their tea chests had gone.) To the American sound they added the manic energy of "end-of-the-pier" variety acts, represented in One Man by impromptu breakdowns featuring xylophones and car horns.
By the mid '60s, when One Man takes place, the fad was fading in the face of the slicker sound of what would become the British Invasion. The play begins with Mr. Corden's character, Francis, being ejected from his band after a Beatles concert makes his bandmates realize they no longer need a washboard player.
Though many skiffle standards—"Rock Island Line," "John Henry"—are familiar to fans of American blues, the style has been largely forgotten in Britain. Rather than score his show with more familiar Beatles-style numbers, Mr. Bean chose skiffle to "give people something they don't quite know." The sight of a man playing a washboard is, he said, something that leaves an English audience "intrigued."
In London, Mr. Olding led the band himself, singing and playing guitar on songs "The Brighton Line" and "The Brighton Line (Car Horns version)." Equity rules prevented him from reprising his role in New York, and so he came over in February to form the Craze, USA. His British bandmates had to learn the country style that is at skiffle's heart, but he found that American musicians have no trouble "playing country licks." The trick, he said, was finding players "who can convince me that they're British," in order to imitate "snotty-nosed" English kids who were trying to sing like Lead Belly and "not quite managing it."
As his replacement, Mr. Olding chose Jason Rabinowitz, a mop-headed singer who spent his teen years resisting the urge to talk in a British accent. Singing like an Englishman, he said, requires "constant carving, like water dripping on a rock" to smooth out uncouth American vowels.
"Most of my work has been on accent," said Mr. Olding. "Who knew that, 'She's got cause to worry, 'cause he always stands her up,' would be the most difficult phrase in the world to have in an American accent?"
Mr. Olding has found that the key to being convincingly British is for Mr. Rabinowitz to sing "just right on top of the beat. Not back phrasing, not holding notes on. In a way, not showing off."
When they do show off, as when percussionist Jacob Colin Cohen dings the hotel desk bell that's glued to the top of his washboard, it's done with a wide-eyed eagerness that Mr. Olding compared to the "saucy, British-seaside-postcard thing which runs through the whole show."
Playing bass is the show's music director Charlie Rosen, an experienced pit musician who has found a niche playing in on-stage bands, in musicals like Bloody Bloody Andrew Jackson and Thirteen. Being on stage, he said, is "much more exciting than playing in a pit."