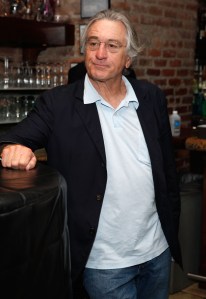 Call it the Tri-Be-Can't effect: As New Yorkers, we loathe letting go of our venerable institutions. It's hard to even admit that they've changed enough to warrant a new name. The Lincoln Center is referred to as "the tents" during Fashion Week, as if anyone is still fooled into thinking the shows take place in Bryant Park. The most recent egregious case of celebratory misnomers has to be the Tribeca Film Festival, which was founded in 2002 by Robert De Niro, Jane Rosenthal and Craig Hatkoff. The purpose of hosting the event in Tribeca was to show the world that the neighborhood devastated by the attacks of Sept. 11 still had enough spirit to be snooty about its cinema. With its Cannes-do attitude, the festival premiered international indies in an attempt to show that New Yorkers were still as culturally polyamorous as their European brethren.
But for its 10th-year anniversary, something feels a little … different. Maybe it's because half the screenings no longer take place anywhere near Tribeca. We actually found ourselves racing along Midtown for the festival's kick-off at the Ziegfeld Theater. Or maybe it's that the indie festival debuted with The Five-Year Engagement, with every poster proudly proclaiming that it comes "from the producer of Bridesmaids"—because nothing says "independent" like giving producers and their studios top-billing over the actors.
Oh, well, at least Five-Year is a (Judd) Apatow production: the poor guy probably needs some work thrown his way. He seems to have just dropped off the face of the earth. It's been about 20 minutes since someone last mentioned Mr. Apatow. If we're being pinpoint specific, we just read another critique of HBO's überhyped Girls, which Mr. Apatow also executive produced, so really, make that 20 seconds. Wunderkind Lena Dunham's first foray into mainstream success has hit both its stride and its official backlash simultaneously—something made even more amazing by the fact that the show is only on its second episode. It's brilliant! But racist! And sexist! Or at least, Sex and the City-ist! The critically lauded comedy about a girl who believes she's the voice of "a generation" (if not this one) can't seem to catch a break, even while it surges to the top of pop culture talking points. (All we'll say is that we'll never look at Cabbage Patch lunch boxes the same way again.)
Maybe there was no way Girls could live up to its own hype, but we'll still be watching. After all, at least we know where those girls stand: Ms. Dunham is Tribeca, born and bred … even if her premiere party was held in the meatpacking district and her character lives in Greenpoint.
Of course, in talking about sticky situations, we'd be remiss not to mention the giant muck-up at Columbia of late. Here we are, going on about some tiny film festival while the Columbia Journalism Review is moving its headquarters off-campus and into Midtown! We were always taught that what goes on in Columbia stays in Columbia (unless we're talking about the country of the same name and you happen to be part of the Secret Service). They might as well call it the Times Square Journalism Review now. At least employees of The New York Times will know where to send their résumés. We have to admit, the way Times staffers are handling proposed cuts to their Guild Pension plan during their heated contract negotiations with the company's management is pretty brilliant. YouTube videos are a quick, effective way to get the word out. Not to mention they're as viral as cute bunnies.
So maybe when it's all over, The Times can submit these videos as a sequel to Page One for next year's Tribeca festival. We hear the screenings are going to be held on Long Island.