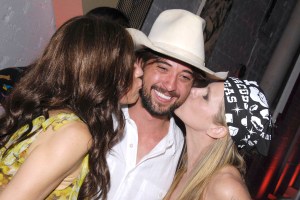 The Art Production Fund kicked off a week of art world galas Monday night and attendees were thrown right into it as they approached the warehouse space in Tribeca where the party was held. Outside, a man in a gray suit played fiddle from the back of a pick-up truck amid the smell of hay, not far from a buff man in a hat and chaps who surveyed the scene from a loading dock with his thumbs looped in a belt.
It was a hoedown, all right, complete with mechanical bull, though in the earlier parts of the evening the only taker for the bull was a young boy in a white shirt.
"Yeah, who is that kid anyway?" asked Vladimir Restin Roitfeld, who'd picked up his bolo tie that morning after the Dallas Art Fair, and whose favorite cowboy is Clint Eastwood. "He's been on there for like 20 minutes."
The kid's pace was slow. "I'm going to bribe the guy to keep it that way," said gallerist Bill Powers, who was next. Wearing a borrowed cowboy hat that didn't really go with his gray jacket, he managed to stay on for a solid minute. Sometime later a blonde in a black bra, chaps and cutoffs took to the bull and employed the Powersian tactic, an extended arm counterbalance, though she also seemed to be squeezing with her thighs, pretty seriously, against the bull's plastic hide.
"Hey, she's doing pretty good up there," Eli Broad noticed aloud, in the middle of conversation about something else. (Favorite cowboy: the Lone Ranger.)
Art adviser Mark Fletcher hopped on the bull and after a few seconds gave a thumbs up to the engineer to signal he wanted it to go faster. After a few more seconds he gave yet another thumbs up and was thrown right off. Not very impressive, especially for someone who, according to his partner Tobias Meyer (the Sotheby's honcho who was being honored that evening along with Mr. Fletcher and Kiki Smith), is a quarter Cherokee. His favorite cowboy? Mr. Meyer answered by taking off his tan cowboy hat, made specially for the event, to reveal a lining that featured a painted tableau with a blond cowboy and an Indian gazing at a sunset. It was based on the Winnetou novels by Karl May, which told the adventures of the eponymous Indian and his European compatriot Old Shutterhand. Mr. Meyer used to watch the TV miniseries based on the books, growing up in Germany.
"I always thought Winnetou was so handsome and brave," he said, sentimentalism just barely penetrating his Teutonic monotone. He glanced at Mr. Fletcher, who was having a conversation with someone else. "So this is a childhood thing."
Aby Rosen, in a bright red shirt, said that he prefers John Wayne, but also has a soft spot for Ronald Reagan.