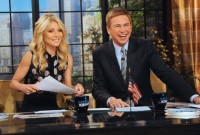 Man of the People, Canadian, web entrepreneur, NY1 morning anchor, trivia fiend, and all-around niceguy Pat Kiernan is getting another shot at National Stardom, as the year-long campaign to get Kiernan named as a permanent co-host for Kelly Ripa scores another victory.
Via a press release copied to his Pat's Papers website:
April 30, 2012 – NY1 anchor PAT KIERNAN co-hosts with Kelly today. Kelly and Pat sit down with Donald Trump to discuss the newest season of "Celebrity Apprentice," and the latest eliminated contestant from "American Idol" performs.

May 1, 2012 – PAT KIERNAN is back as Kelly's co-host this morning. "Hawaii Five-O" star Daniel Dae Kim chats with the hosts, and iconic DJ Samantha Ronson steps out from behind the turntables to perform her original song, "Summer of Sam."
Fans of Kiernan have been attempting to get the NY1 morning anchor with a cult following named to the spot for over a year now—yes, they have a Facebook page—which is to say nothing of Kiernan's high regard for the gig.
Finally, to editorialize, ever-so-momentarily: We greatly look forward to Kiernan, a mild-mannered brilliant commander of subtle wit, speaking with Donald Trump. That will be good television.
fkamer@observer.com | @weareyourfek