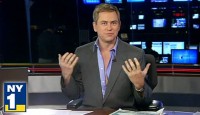 Residents of North Brooklyn's 11211 area code who also happen to be part of the local cult-fanbase of NY1 anchor Pat Kiernan, your moment has come. Not only is Kiernan going to be on Live! With Kelly again next week, and not only is he profiled in tomorrow's Thursday Styles (wherein "an abiding love" for Pat is declared that which makes one a "real New Yorker"), but yes:
Pat Kiernan is moving to Williamsburg.
Williamsburg's local celebrity cache—previously owned almost exclusively by Muppets and Omar Little Michael K. Williams—has just been upped, as Kiernan is migrating his family (or as they are now known, The First Family of Williamsburg—Canadian Branch) from the Upper West Side to a nice little spot on Bedford Avenue. Not that you're likely to share a cramped L-Train with him on your way to work seeing as how he goes at like 4AM or whenever it is, but he is installing his clan on one of the busier streets in the 'Burg.
The NY1 anchor, and possible heir to the Regis throne, just paid $2.025 million for 135 Bedford Avenue in Williamsburg…a source in the brokerage community has this to say to us about it: "The sale price is unprecedented in that $2,025,000 is the highest price ever paid for a single family home in Williamsburg."
There is a (not-Pat-Kiernan-hosted) video of the property here. It is really, really nice.
The early bird may get the worm, but the guy who has had consistently earlier mornings for a longer period of time than anybody else in New York's TV news got an appropriately baller house.
We anticipate and eagerly await the great Tweets that Pat Kiernan living in Williamsburg will yield.
fkamer@observer.com | @weareyourfek