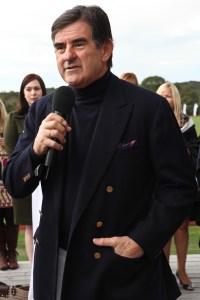 On May 15, the Whitney Museum will hold its annual American Art Award gala, which this year will honor collector Peter Brant, the Henry Luce Foundation, and advertising firm Oglivy & Mather. This year, the Art Award will be designed by Nicole Eisenman, who is featured in the 2012 Whitney Biennial, currently on view uptown at the museum.
Last year the event was held in a tent at the site of the museum's future location right at the base of the High Line. That party honored Google's Marissa Mayer with an award designed by Ellsworth Kelly.
This year the museum shifts the venue uptown slightly, to The Waterfront event space on 12th Avenue in Chelsea.