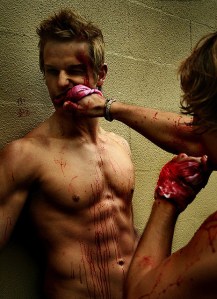 Sure, you might bring a shrewd mindset and a few inflexible demands to an apartment closing, but a revolver?
Some people do, The New York Times reports, in a story on acts of violence, temper tantrums and shouted threats that accompany some closings in the brutal world of New York real estate.
Is it laying out all of one's savings and then some that drives people over the edge? Not really, the reporter finds. Mostly, it's the little things.
Like the beaten-down old washing machine that the sellers removed from a $3 million Greenwich Village townhouse right before the closing. The buyers were outraged, so outraged, in fact, that one of them ripped up a certified check for more than a million dollars, then took things a step further.
"'Are you going to put back the washer?' Again the seller says no. At that point, the buyer puts the two halves of the check in a glass bowl, takes out a match, and lights them on fire. Then he marches out," real estate lawyer Stephen Raphael recounted a particularly acrimonious closing to The Times.
At other closings, the violence wasn't symbolic. After learning the price her husband had received for their apartment in the East 50s, one woman flung the house keys at his head, causing a bloody wound.
"All of a sudden there was blood all over the place," Halstead broker Fern Hammond told The Times. "Evidently foreheads bleed profusely. Everyone was pushing the papers out of the way, and the husband was holding tissues to his wound. It happened almost 30 years ago, but it is something I will never forget."
In the case of the revolver, a lawyer told the story of a man who took the gun out of his holster and laid it on the table before asking if anyone wanted to negotiate his terms. Apparently, no one did.
kvelsey@observer.com