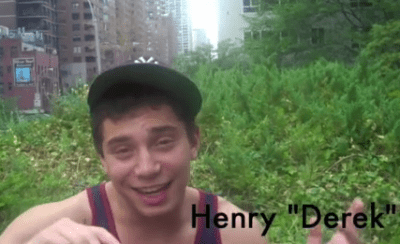 Educator, author and screenwriter Karyn Kay, age 63, was brutally beaten to death in her apartment at W. 55th Street and Eighth Avenue Tuesday. Police believe she was killed by her son, 19-year-old Henry Wachtel. A report from the Daily News stated Ms. Kay called 911 and said her son was assaulting her and that he was having a 'seizure.' Police arrived to find the victim unconscious. Later examination at Cornell Hospital indicated Ms. Kay suffered major trauma, including fractured skull, facial bones and broken ribs.
Authorities told the Daily News there was no evidence Mr. Wachtel used a weapon:
Neighbors said they were alerted to the horror by shouting.

One said he could hear the son. "He was screaming, 'I'm sorry mommy! I'm sorry mommy!' over and over and over," said one neighbor who lives three doors down from Kay's 10th-floor flat.

"Then suddenly it all stopped."
Karyn Kay taught at La Guardia High School and was a visiting instructor at Brooklyn's Pratt Institute. Her bio on the Pratt Institute's website listed other highlights of her career:
She has written three books on film, Women and the Cinema: A Critical Anthology, Myrna Loy, and Besides Berman, a short work on independent films from Scandinavia. She teaches English—writing, film and literature—at LaGuardia High School of Music & Art and Performing Arts in Manhattan, as well as at Pratt. She is currently working on a feature film project, tentatively title Service. Ira Zinman is the producer.

Karyn Kay has written primarily about issues of feminism in film. She conducted the first interview with Dorothy Arzner, the first woman director in Hollywood. She has written and produced a feature film, Call Me, which won awards for screenwriting, and she has directed several shorts.
Karyn Kay's legacy as an educator was apparent in a passage from a former student's blog, written after hearing news of her death:
Dear Ms. Kay,

I never got to tell you that I decided to minor in creative writing. That would have made you so happy. You inspired us so much with all of your stories. The way you would just write a word on the board and say "just write" and leave the room. When you would come back, we would have all written short stories, poems, and songs about the topic you chose. You never told us how to write. You just told us that we were good. That made me feel more confident about sharing my writing with the world-which is why tonight I will put up all of the poems I wrote for your class.
While the Daily News interviewed friends of Mr. Wachtel who had only good things to say, it was evident Ms. Kay had ongoing problems with her son. She reportedly told a Zumba instructor that she was "very worried" about Mr. Wachtel and described him as "getting really angry lately." At least one of Ms. Kay's neighbors also stated there were "so many screaming matches" coming from the victim's residence.
Ms. Kay was one of the 46 Kickstarter supporters for the short film "Our Time," described in the promotional video below. The film featured Henry Wachtel as a young man named Derek, who with his friend Tyler was making "the impending crossover into adulthood." Mr. Wachtel speaks in the promo video, urging donations and stating that the film is "the story of my life" as well as his friend Duncan's (who played Tyler) life.
From the Kickstarter page for "Our Time," a short film featuring Henry Wachtel