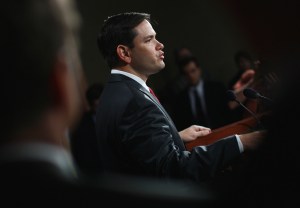 Today, the pollsters at Public Policy Polling took a look at how the presidential race is shaping up in Florida, one of the most crucial swing states. Though Florida Senator Marco Rubio is considered to be one of the leading contenders to run as Mitt Romney's vice president, PPP found Mr. Rubio actually hurts Mr. Romney in his home state.
Overall, President Barack Obama has a five point advantage over Mr. Romney in Florida with 50 percent of voters saying they'd support him compared to 45 percent for Mr. Romney. With Mr. Rubio on the ticket alongside Mr. Romney, Mr. Obama's numbers stay flat, but Mr. Romney's support drops to 43 percent.
Mr. Rubio is Cuban and his Latino ethnicity is a major reason many observers believe he could be an asset to Mr. Romney's candidacy, however PPP found Mr. Rubio does nothing to improve Mr. Romney's Hispanic support in Florida.
PPP Director Tom Jensen believes Mr. Rubio's low approval rating to explain his negative impact on Mr. Romney's poll numbers in the Sunshine state.
"Rubio is not an overwhelmingly popular figure in Florida with 43% of voters approving of him to 41% who disapprove," Mr. Jensen wrote.