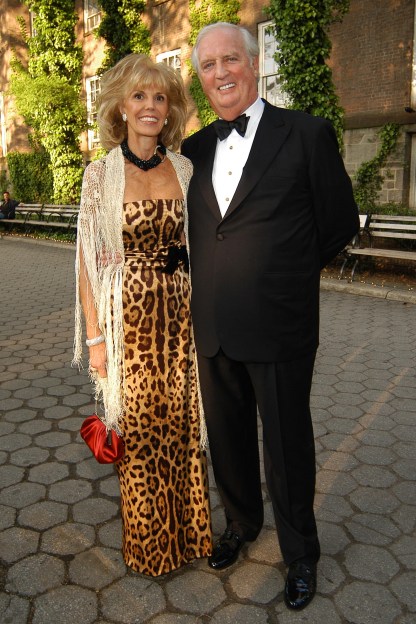 Clementina "Tina" Santi Flaherty won't be leaving the penthouse after all at 1040 Fifth Avenue, the fabled limestone building that Jacqueline Kennedy Onassis also called home.
Business trailblazer, socialite, author and — according to a book about "how women will dominate Amerca" — a  "powerchick," Ms. Flaherty is keeping the duplex penthouse that she and her ex-husband William Flaherty, a zinc magnate, purchased in happier times. She is paying $13 million for the privilege of staying, according to city records.
And considering that the co-op was most recently listed with Leighton Candler of Corcoran for $32 million in October 2010—after coming on the market for a staggering $43 million literally one day before Lehman collapsed—$13 million seems like a steal for the pleasure of gazing out at Central Park or sitting in the pine-paneled English library to pen another book like The Savvy Woman's Success Bible or What Jackie Taught Us: Lessons from the Remarkable Life of Jacqueline Kennedy Onassis (intro by Susan Lucci). Ms. Flaherty didn't know the former first lady, but they lived in the same building for a few years before Ms. Onassis expired.

Despite the listing, it seemed that Ms. Flaherty had every intention of staying put in her most enviable of homes in the most enviable of buildings, designed, of course, by uptown godhead Rosario Candela.
"I'm like Scarlett O'Hara. The land—the apartment—means a lot to me. I even have a dog named Scarlett, just like Scarlett O'Hara. I'm just as persistent and everything else," Ms. Flaherty told the Observer in 2008, when rumors of the listing first started to circulate. (Ms. Flaherty did not return a call for comment on her more recent victory).
The persistence apparently paid off in Ms. Flaherty's case, though one wonders if she might not now try and flip the home like other famous divorcees, such as J. Crew's Jenna Lyons.
In the divorce proceedings, filed in 2007, Ms. Flaherty claimed not only marital abuse, but that Mr. Flaherty had hid as much as $100 million in marital assets overseas.
Perhaps this is a sign that the couple's complicated divorce proceedings (properties and a substantial amount of jewels counted among the possessions the couple needed to divide), which have been wending their way through the Palm Beach courts, have finally come to an end.