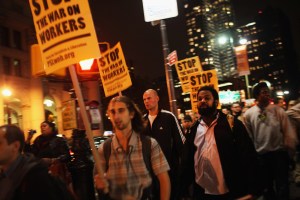 A coalition of Occupy Wall Street protesters and attorneys for civil rights organizations filed a Freedom of Information Law requesttoday asking the NYPD to reveal "all information concerning the policies guiding the law enforcement response to Occupy demonstrations since last September." The FOIL request is part of efforts to investigate the government response to the protests.
"Assembly and speech rights are core to our democracy. We have been investigating the police treatment of OWS for months, and the policing of OWS has been abusive and unpredictable," Emi MacLean, an attorney with the Protest and Assembly Rights Project, said in a statement announcing the request. "Mayor Bloomberg has described the NYPD as his army. It is, of course, not an army but a civilian police force. And even armies require some measure of transparency and accountability."
The NYPD has come under fire for violent arrests that occurred during the Occupy demonstrations that began last September and the subsequent eviction of the protest encampment in Zuccotti Park last November. Organizations teaming up for the FOIL request include; the OWS Archives Working Group, the Global Justice Clinic at NYU School of Law, the Walter Leitner International Human Rights Clinic, the Center for Constitutional Rights and the New York City chapter of the National Lawyers Guild.