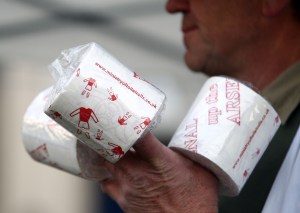 Every once in a while you wake up on a Monday morning, read a story and just know that it is going to be a good week. This is one of those Mondays.
The Associated Press reports that David Heatwole, an artist based in Martinsburg, W. Va., faces a $500 fine for littering after leaving a sculpture that consists of a toilet and three purple balloons filled with helium on an empty pedestal in the town. The lid carried the message: "Put art in Martinsburg." Mr. Heatwole has said he left the sculpture as part of a protest to encourage the city council to commission contemporary art for the town.
The local Herald Mail newspaper has more details:
Dangling from the toilet bowl was a "bill of sale" from "My Art Brokers" that was addressed to the city of Martinsburg for one "crappy work of art" for $50,000 to be payable upon receipt of work.

"Note: Thank for your support of the arts — David Johnson!" the fake receipt read.

Johnson, aka Martinsburg artist David Heatwole, said the "publicity stunt" was part of his overall effort to show the community and city leaders "how the arts can make Martinsburg a greater place to live, work and visit" and also make sure his contemporary art proposal for the pedestal is "heard."
The pedestal was built last year to hold a sculpture of Revolutionary War Major General Adam Stephen, a project that has been at a standstill because of lack of funding—and because no one knows what Stephen actually looked like.
In another Herald Mail article, Mr. Heatwole had this to say about the publics' reaction to his sculpture, which was apparently only on view for 20 minutes one morning, before the city carted it away: "From what I've been able to tell, there were only a few people that weren't able to smile about it.… Sorry for them."