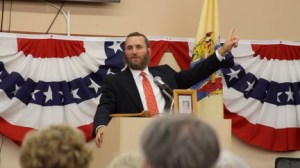 Rabbi Shmuley Boteach, the author, television personality and erstwhile spiritual guru to Michael Jackson, has raised $90,470 since starting his underdog New Jersey congressional campaign last month. Mr. Boteach announced his first quarter fundraising results in a statement today that also touted some of his big name backers; Birthright Israel co-founder Michael Steinhardt, coffee mogul Sunny Sassoon, conservative radio host Dennis Prager, Elie Wiesel's son, Elisha and House Minority Leader Eric Cantor, whose PAC gave Mr. Boteach $5,000.
"The substantial sum we raised in little over five weeks, since announcing my campaign, is evidence of the passionate desire on the part of Americans for a values-based campaign that dismisses divisive social wedge issues and focuses on fixing the family, combatting materialism and greed, and encouraging service and commitment on the part of America's citizens," Mr. Boteach said in a statement. "I am humbled by the support we have gained with our message of dignity through self-reliance and economic renewal through personal accountability and entrepreneurship."
Mr. Boteach's fundraising left him with $74,190 on hand. Though Mr. Boteach has high profile donors, his potential rivals have more dollars in their war chests. Mr. Boteach is trying to score the Republican Party nomination in New Jersey's ninth district, which generally leans Democratic and. The redistricting process left a pair of veteran congressman, Steve Rothman and Bill Pascrell, battling for the Democratic nomination there and both Democratic incumbents have more contributions to their name than Mr. Boteach. According to a statement sent out earlier this week, Mr. Pascrell raised approximately $510,000 in the first quarter leaving him with $1,363,000 on hand. According to a spokesman for the Rothman campaign, Mr. Rothman raised about $540,000 leaving him with $1,790,515.97.
The gap between Mr. Boteach's fundraising and the Democratic incumbents' is to be expected since both men have been raising funds since coming to Congress in 1997 and their totals for the first quarter include the first three months of the year while Mr. Boteach only launched his campaign in mid-March. Though the fundraising gap is understandable, it's still illustrative of the uphill battle Mr. Boteach will face if he manages to secure the GOP nomination and face off against the winner of the fight between Mr. Pascrell and Mr. Rothman.
Both Democratic incumbents have been fighting a heated battle against each other complete with television ads that require an ample war chest. In a move that's perhaps indicative of the strategy Mr. Boteach may employ to combat his better funded rivals, he referenced and criticized their ad buys in his fundraising announcement.
"As two Democratic incumbent Congressmen assail each other with negative ads, we seek to build on the support we've received with a positive and inspirational message of values being the bedrock of American exceptionalism," Mr. Boteach said.