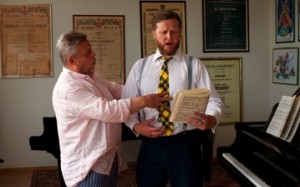 "Song," Ragnar Kjartansson's first solo museum show in the U.S., which opened at the Carnegie Museum of Art last year, will travel to the Museum of Contemporary Art in North Miami next month.
The exhibition runs May 17 – Sept. 2 and will feature video work by Mr. Kjartansson from the last decade, as well as a reprise of his MOCA-commissioned performance, Du Holde Kunst. That piece was first performed at MOCA's 15th-anniversary gala. It consisted of  a slow and repetitive version of Franz Schubert's "An Die Musik" accompanied by a pianist, brass quartet, harp, timpani, large crash cymbal and showgirls with big feather fans. The piece was an expansion on the themes he explored in his 2011 Performa commission, Bliss, in which he and a group of Icelandic opera singers performed the final aria from The Marriage of Figaro for 12 hours straight.
The MOCA exhibition is organized by the Carnegie Museum of Art, Pittsburgh, and is curated by Dan Byers.