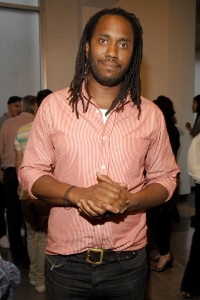 Artist Rashid Johnson will throw the opening pitch at Chicago's Wrigley Field at the April 12 Chicago Cubs game against the Milwaukee Brewers.
This may very well be a historic moment. We can't think of a prior occasion where a visual artist has thrown the starting pitch to a professional baseball game. This means Mr. Johnson joins the celebrated ranks of other Wrigley Field ceremonial first pitch throwers Robert Redford, Martin Sheen and, uh, Ronald Reagan.
We discovered the news last night from Mr. Johnson himself at the Bard CCS gala. The artist, who is originally from Chicago, will be the subject of a solo exhibition of the Museum of Contemporary Art in Chicago that opens April 14. Here's hoping his curve ball will be something of a good omen.
So: Go artists! Your athletic abilities are so rarely taken under consideration. To paraphrase Neil Armstrong, it's one giant step for the art world.
UPDATE: A commenter has drawn our attention to Tony Tasset, the artist, and currently an art professor at the University of Chicago, who threw the first pitch at Wrigley Stadium just last year. There's even video! (He's got a good arm.) See below.