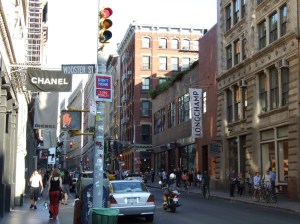 If you reside in a SoHo or NoHo loft, some people may soon be knocking on your door hoping to ask some questions about your occupation. Various real-estate types have established a group called the SoHo/NoHo Action Committee aimed at determining whether the lofts in those neighborhoods, which are legally mandated to house an artist, do, in fact, comply with that rule, DNAinfo reports. The organization plans to hire surveyors (it's aiming to raise $25,000) to determine that. Door-to-door knocking is one of the tactics on the table.
The group's goal is to prove that artists no longer reside in many of the lofts and have the artist-in-residence regulations stricken from the books. Right now, it seems, many potential buyers are hesitant to pull the trigger on artist-zoned lofts in the area, since they're afraid someone from the city government will enforce the regulations, giving them the boot. (That said, quite a few people are believed to be skirting the rule.) CurbedNY reports that about 200 lofts are covered by the current rules. Here's DNAinfo:
Prudential Douglas Elliman luxury real estate agent Leonard Steinberg, a supporter of Baisley's committee, said he recently had a non-artist client pass on buying a $15 million home in SoHo rather than try to buy illegally.

The city needs to change with the times, Steinberg said.

"These rules are government stupidity," he said. "I'd say 80 percent of people who live in SoHo now are not artists, but the government has a problem redefining the neighborhood."
The artist-in-residence guidelines were established in the 1970s to encourage artists to live and work in the area, which was far less tony at the time. (Oddly, "interpretive" artists like dancers, musicians and actors do not fit the bill.) One broker said that the law now hurts artists:
Real estate broker and certified artist Susan Meisel said the artist-in-residence rules now hurt the very people they were designed to protect. Aging artists sometimes have trouble selling their properties, she said.