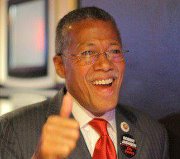 Councilman Robert Jackson is ramping up his fundraising efforts in his bid to be Manhattan Borough President. On April 17, Mr. Jackson is having a fundraiser in an apartment adjacent to Lincoln Center. Mr. Jackson has good reason to step up his efforts to draw donations. As of January, he had a much smaller war chest than two of his rivals in the race for the borough presidency.
Mr. Jackson's fundraiser is hosted by Michael Rebell, executive director of the Campaign for Educational Equity at Columbia and a longtime advocate for increased public education funding, and Mr. Rebell's brother, Arthur. According to the invitation ickets for the event cost from $50 to $500.
Two of Mr. Jackson's rivals in the race for Manhatta's borough presidency, Julie Mennin and Councilwoman Jessica Lappin, both had over $400,000 in campaign contributions as of the most recent reporting date compared to just $9,918 for Mr. Jackson. Councilwoman Gale Brewer, has also declared her intention to run for the borough presidency, but as of February, she said her work on "so many different issues" had precluded her from forming campaign committee.
View the invite to Mr. Jackson's event below.