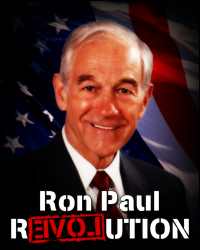 Every news organization has some kind of tips inbox that most reporters or editors don't pay that much attention to, with good reason: They normally don't yield anything too fruitful, aside from the occasional hilariously awful press release one forwards around the newsroom with zero comment needed, preposterously bad joke that it is. Well, it's Friday, and we took a peak in the Observer's Tips Inbox to take a look at what was there.
Lo and behold, there were emails from supporters of Ron Paul, the L. Ron Hubbard of Libertarians, currently running for President. Which isn't too out-of-the-ordinary. Except, well, there were a few of them. Today is apparently some kind of Ron Paul Day of Email Action. Everyone from the New York Times to The Daily Beast to The Texas Tribune to us are getting them.
We counted about fourteen or fifteen of them, all with some variation of the same message: THE MEDIA IS NOT COVERING RON PAUL.
Some were fairly nice and well-mannered:
By blacking Paul out the media is essentially giving voters less options for a president because most people that would vote for him if they actually knew his views, don't even know he is still in the running. Thank you for taking the time to read this.
Some were very astute and kind of sad:
Will you please cover Ron Paul. I wish you would be fair.
Why be in the media if you don't report? – Ryan
Some were ill-informed, and these had all-caps missives in them:
As the media it is your duty to report all the canidates. Not just the two that pay you to report on them.
START REPORTING RON PAUL AS A GOP CANIDADTE NOW!!
THE PEOPLE HAVE SPOKEN!!
And here this writer would like to note that neither President Barack H. Obama nor Governor Mitt Romney have ever given me money, but they—like Ron Paul—are more than welcome to donate to my Portable Air Hockey Table Kickstarter fund, if any of them so desire to have the air hockey table of their dreams (press coverage not included). Also, like emails from Baby-Boomer-aged relatives, THE PEOPLE will not be listened to if they don't turn off that Caps Lock.
One that was sent a few times was a form letter with the subject line "Support True Journalism" which informed this newsroom and the email's other, like, 200 recipients, that we should all reconsider our chosen profession because we don't cover Ron Paul enough:
To be quite frank, if I were in a position where I executed such obvious and deliberate betrayal of my professional integrity, I would be ashamed to the point of reconsidering in my chosen profession.
We feel this way about letting Carl Pavano off the hook every day of our lives. Not being a sports reporter in Minnesota, there's not much I can do, and having been blackballed from the Stupid Pet Trick Training Industrial Complex for ratting out their secrets (Ritz crackers), this writer just doesn't know if there's another profession he can consider. As for not being a politics reporter, well, today, we won't let that get in the way.
We checked in with Google Trends to see just how much people want to read about Ron Paul: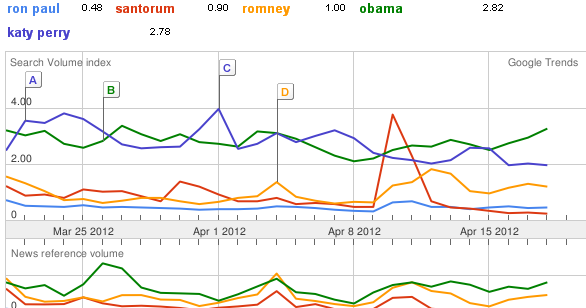 That's search engine traffic for the last 30 days. That's less than half than Romney, and a little more than half compared to a candidate who just dropped out of the race, and about five times less as much as people want to read about Katy Perry.
So why do Ron Paul's supporters think their candidate needs to be paid attention to? Polls! And not just polls conducted by RonPaul.com, but polls conducted by the AP! Look for yourself and see:
Except, well, not really. If you go into the AP's polling data (Rasmussen requires a login), the 44% was an answer yielded in a question asking if the election were between Paul and Obama, the same question that is asked of all the candidates, which yielded votes against Obama in the 40-44% range with regards to each of the Republican candidates. In the same poll, the question asking which of the Republican nominees respondents would want to see take the nomination, Romney had 29%, Santorum had 16%, Gingrich had 13%, and Paul, interestingly, had 19%. This is why Paul followers should get excited, right?
Wrong. The question was asked of Democrats and Republicans. One reason results of those questions are skewed is because Democrats want to see the most ready-to-lose candidate face off again their party's. And poll results like these are commonly skewed by politicians like Paul to work in their favor, and stir up feverish excitement in their supporters, whose candidate has yet to receive proper press coverage, according to them.
This is the same Ron Paul who Time gave their 100 Most Influential People plaudit to, who pulls hundreds of Google News results per day. But Paul supporters, still not satisfied, have taken up in arms against media inboxes everywhere.
So, this one's for them. Besides the obvious influx of traffic that—forget trolling—simply writing about Ron Paul supporters will earn this website, it is worth it, not to consider the cause this small, loud contingent of people want paid attention to above other causes on a campaign of irritability, but to consider the small, loud contingent of people who do the spamming themselves: Ron Paul supporters.
This is the fundamental issue with Ron Paul's grassroots campaign: Their efforts exceed the meaning of those efforts. They make a better story than him. Why is that?
In an era when a simple idea like Occupy Wall Street—one requiring far less money than the Paul campaign, with a far more abstract position—can spread so quickly to so many places around the world, at some point, Paul supporters should ask themselves if their candidate has done as much for them as they've done for him. Or, in short-hand: Why? 'Cause it ain't the media. We, for the record, are right here, and hear you loud and clear. The problem is: You're drowning out your cause.
Fix that. And you can start by laying off the email. Like everyone else in America with an inbox, we just delete most of it, anyway.