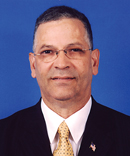 Sunday night, Ruben Dario Vargas, a community activist who has run multiple unsuccessful campaigns for public office, announced he'd be throwing his hat into the race for Congressman Charlie Rangel's seat and would be launching his campaign today at noon. However, Mr. Vargas' campaign ended almost as quickly as it began. At the event that was supposed to be the start of his campaign, Mr. Vargas instead announced he will be dropping out of the race he was in for less than 24 hours and giving his endorsement to another candidate, State Senator Adriano Espaillat.
Mr. Espaillat is vying to be the first member of Congress of Dominican descent. Without Mr. Vargas, he is the only Latino candidate running in the 13th district, which contains a largely Dominican Latino majority. Mr. Vargas said he chose to drop out because he believes it is more important for the Dominican community to unite and "make history.
"This election is a once-in-a-lifetime opportunity for our community," Mr. Vargas said. "With the stakes so high, I think it's important for the community to unite behind a candidate who can make help us make history, and that candidate is Senator Espaillat. While I've worked hard to get myself in a position to run, I'm ready to give all of my support to the candidate who can succeed in bringing fresh leadership to Congress this year."
Mr. Vargas' departure from the race leaves five candidates standing; Mr. Espaillat, Mr. Rangel, former DNC head Clyde Williams, businesswoman Joyce Johnson and former model Craig Schley.