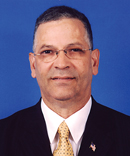 Ruben Dario Vargas, a self-described "Northern Manhattan community activist" who has run multiple unsuccessful campaigns for public office, is throwing his hat into the crowded campaign for the 13th congressional district, where Charlie Rangel is running for re-election. Based on his past performance running for the seat, Mr. Vargas is unlikely to be a major threat in the race, but his entry will strip State Senator Adriano Espaillat of his status as the only Latino candidate in a district with a majority Latino population. 
In addition to Mr. Rangel and Mr. Espaillat, former DNC head Clyde Williams, businesswoman Joyce Johnson and former model Craig Schley are running for the Democratic nomination in the 13th district. Mr. Vargas plans to officially announce his campaign tomorrow at noon at Caridad Restaurant on Broadway and 145th Street. He unsuccessfully challenged Mr. Rangel for his seat in 2010 and has also run for Manhattan Borough President and the Council seat currently occupied by Ydanis Rodriguez. According to a profile from his 2009 Council run, Mr. Vargas is an Air Force veteran who has worked with the NYPD as an evidence and property specialist and  has been involved with the International Chess Federation.
Mr. Vargas' press release about his announcement said he has received 1,600 signatures so far to get his name on the ballot for the upcoming Democratic primary. It also said he "secured 18% of the vote" the last time he ran against Mr. Rangel. Mr. Vargas actually received about five percent of the vote in the 2010 Democratic Primary.  Mr. Rangel won that race with 51 percent of the vote.