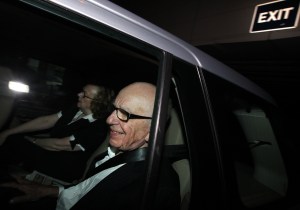 News Corp shogun and avid tweeter Rupert Murdoch will be in the hot seat again this week, testifying under oath in the United Kingdom's "Leveson Inquiry" into press practices. The 81-year-old billionaire will face new questions regarding phone-hacking and his and his company's relationship with U.K. political figures.
Mr. Murdoch's son James, age 39, will answer questions in the same hearing Tuesday and the elder Mr. Murdoch is expected to appear Wednesday and Thursday.
This will be Rupert Murdoch's first appearance under such circumstances since he testified before another committee in July, 2011. Much of what the Murdochs spoke about at that hearing will likely be rehashed, according to the Australian Associated Press:
The Murdochs will be asked about the phone-hacking scandal, which led to the closure of the 168-year-old News of the World last July after revelations that the paper listened to the voicemails of murdered schoolgirl Milly Dowler.

James Murdoch is expected to face more questions about what he knew as executive chairman of News Corp's UK newspapers division News International, a post he held until February.
The Leveson Inquiry is broad-ranging but for media-watchers in the United Kingdom and the United States the senior Murdoch's appearance is likely to be of special interest. So buy your popcorn now.