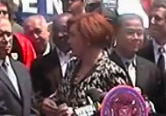 City Council Speaker Christine Quinn won't tolerate anyone messing with Mayor Bloomberg and Stuart Appelbaum, president of the Retail, Wholesale and Department Store Union, doesn't want messing with Ms. Quinn for angrily leaving this morning's rally celebrating the upcoming vote to pass the living wage bill after someone mocked the mayor.
Ms. Quinn made her exit from morning's rally on the City Hall steps when someone shouted a crack about "Pharaoh Bloomberg." Mr. Appelbaum, who was in attendance at the awkward rally, leapt to the Speaker's defense this afternoon with a press release reminding people of her role in getting the living wage bill vote passed in the first place.
"Make no mistake, there would be no living wage law bill without the Speaker," Mr. Appelbaum said. "Even though Chris may have left the rally after declaring her support for the bill, the most important thing for us to remember is that thousands of new Yorkers will receive higher wages because she had the courage to stand up and pass the living wage law."
Mr. Appelbaum has backed of the living wage bill. The bill is a rare point of contention between Ms. Quinn and Mayor Bloomberg, with whom she normally enjoys a rather cozy relationship.
Ms. Quinn made her break from the living wage rally after she listed off the long roster of polticial figures who were present at the event.
"Everybody but Pharoah Bloomberg!" the man shouted.
Ms. Quinn spun around and addressed the heckler.
"That's not appropriate," she said. "If that's what this protest is about, I'll go right back on inside."
And go inside she did. Ms. Quinn may disagree with Mr. Bloomberg about living wage, she clearly has no tolerance for people disrespecting the mayor–and that's all right by Mr. Appelbaum, who regularly weighs in on a variety of issues. No other city union has responded to the pharaoh flap. We're not holding our breath.