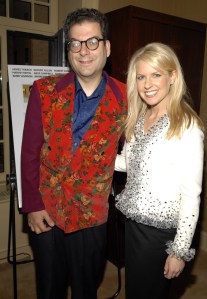 Contraceptive rights crush object Sandra Fluke is engaged, The Daily Beast reported late last night.
"To a man?" Ph.D.-holding Fox News political analyst Monica Crowley quipped on Twitter today.
After being called "homophobic" and "a terrible person," Ms. Crowley followed up: "I love exposing the Left's total lack of a sense of humor."
But when other tweeters pointed out that insinuating someone is gay is no longer considered the epitome of wit, she backpedaled.
"'Insinuating' nothing. Straightforward question. No answer yet."
As virtually all news organizations that reported on the engagement specified, Ms. Fluke's fiance is indeed a male. His name is Adam Mutterperl, he's a Los Angeles writer/producer/director, and he's been dating Ms. Fluke for more than eight years. Last month, many conservative commentators, including Fox's Bill O'Reilly, reported that Mr. Mutterperl's father is a major supporter of the Democratic Party.
"[W]e're just excited that our friends and family were kind enough to pretend to be surprised at our engagement," Ms. Fluke and Mr. Mutterperl told The Daily Beast. "We're really looking forward to spending the next eight years planning our wedding."
[via MediaMatters.org]