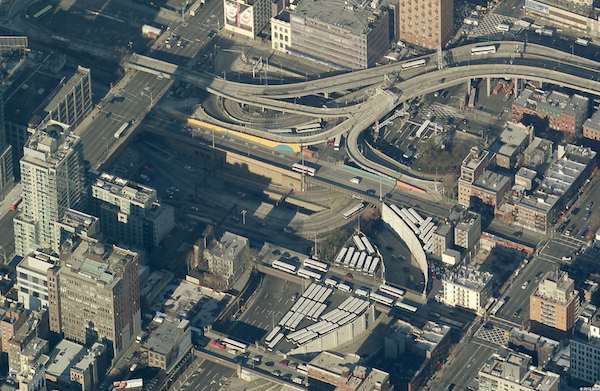 Correction: A reader points out that this is simply a bus garage, not a bus station, and the Port Authority Bus Terminal would remain in operation. The Observer regrets the error.
The Port Authority has been desperate to replace its eponymous bus terminal near Times Square for at least a decade now. Vornado Realty was supposed to build a new office tower atop the terminal, which it would rebuild in the process, but after years of planning, that proposal collapsed.
Now, it turns out Larry Silverstein has quietly floated a plan to build a new terminal on West 39th Street, according to Crain's, near the mouth of the Lincoln Tunnel, atop which Mr. Silversterin would build a new residential building.
A source said the idea, floated during last year's leadership transition at the Port Authority from Christopher Ward to Mr. Foye, involves developing a site on West 39th Street and Dyer Avenue used most recently by Mercedes-Benz by the service road that funnels traffic to and from the Lincoln Tunnel just southwest of the Port Authority Bus Terminal.

Mr. Silverstein, who has a long-term letter of intent with the owner to develop that building, proposed constructing a bus garage capped by a residential tower.

Unanswered questions include how big the tower would have to be to generate sufficient income to finance the construction of the garage, and whether anyone would want to live on top of a bus garage in the heavily trafficked area. It also remains to be seen how much the Port Authority would pay.
Also a problem? The terminal would not connect right to 11 different subway lines. But the fact remains, the bus terminal is an embarrassment to the city and needs to be fixed. The real question remains whether or not Larry Silverstein is the man to do it. On the one hand, he has had a rocky relationship with the Port in the past, but on the other, who knows the lumbering agency better?