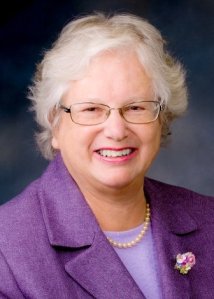 State Senator Toby Ann Stavisky, who was drawn into the same district as her colleague Tony Avella, shall forgo the potentially contentious incumbent-on-incumbent primary and instead will seek reelection in a new Asian-majority district created in Queens, according to an announcement email sent to her supporters earlier this evening.
Ms. Stavisky had previously indicated she was unsure of her plans, and while she said she was definitely running for reelection, the possibility of a messy primary against Mr. Avella was a looming problem for the Senate Democrats after the Republicans controlling the chamber released the new district boundaries. Since most of her old district is in the new Asian-majority seat, however, her announcement isn't exactly shocking.
 She will be kicking off her reelection campaign this Friday with a plethora of her fellow elected officials. The leading names on Ms. Stavisky's list of attendees, notably, are Queens' two local Asian-American elected officials: Councilman Peter Koo and Assemblywoman Grace Meng. If Ms. Stavisky can consolidate some support among the district's Asian constituencies, her reelection path could become substantially clearer.
Attorney John Messer is also in the race and has vowed to spend his own money to do so. However, despite the historic district, no Asian-American candidate has emerged for the seat yet. One Queens source suggested watching former City Council candidates S.J. Jung and Yen Chou, but given the diverseness of the district's Asian community, lower levels of citizenship and voter turnout among immigrant groups, and the advantages of incumbency, Ms. Stavisky surely starts out as the favorite.
Also attending Ms. Stavisky's Friday announcement rally are Borough President Helen Marshall, former Borough President Claire Shulman, State Senator Jose Peralta, Assembly Members Michael Simanowitz, Andrew Hevesi, and David Weprin; Council Members Karen Koslowitz, James Gennaro, Jimmy Van Bramer, and Danny Dromm; and "community leaders from throughout Queens."