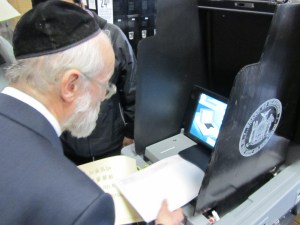 Last night, Republican State Senate candidates David Storobin and Nachman Caller met to discuss the current state of affairs in the district that they are both seeking to represent, according to multiple sources.
Each of the candidates, presumably, would prefer to have an uncontested primary so he could wade into the general election from a position of strength. One source described the meeting as partially a discussion as to who would be the stronger challenger to Democratic candidate Simcha Felder, but Michael Fragin, an adviser to Mr. Caller, described it as more of a general discussion.
Both, however, agreed that while the discussion was respectful, there was no resolution as to which candidate should be the Republican standard-bearer in the election. Complicating the whole matter is the fact that Mr. Storobin might be running as an incumbent, as he is currently litigating the outcome of a March 20th special election in an overlapping senate district that has since been substantially reconfigured during this year's redistricting process.
Muddying the issue even further are outstanding questions as to whom the Republican leadership will even support. Given Mr. Felder's apparent willingness to back GOP Majority Leader Dean Skelos and Mr. Felder's support from the local Democratic establishment, the Republicans in the State Senate could feasibly back the Democrat. However, Mr. Fragin said Mr. Caller had spoken with Mr. Skelos just last week and it was not his impression they'd be supporting Mr. Felder.
There have been reports of Mr. Storobin considering running for the State Assembly instead of reelection to the State Senate, which would clear the primary for Mr. Caller, but if last night's meeting is any indication, he still considers himself very much in contention for the senate seat.