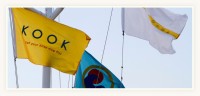 Top Chef second season third-place winner Sam Talbot has seen the high tide at The Surf Lodge, who he's been with since opening. He's apparently moving on to opening something in the Caribbean, reports Grub Street.
The boutique hotel and restaurant that was the first front-line of Montauk's Manhattanizing opening in May 2009 has since experienced a few wipeouts with the natives. There's a price to pay for turning a tiny surf town into a fishing pond for Page Six-bound sightings, which The Surf Lodge apparently never ponied up. Its management is an abject lesson in what can happen when tone-changing businesses move in on small town locals without regard for nuance.
Take for example the hundreds of violation fines they had to pay up, which a local Montauk advocacy group basically lobbied to be enforced. They entangled the local government when officials agreed to amicably resolve an overflow parking dispute.
They've been accused of "flagrant disregard for the law" and Montauk locals have "had enough, and [are] fed up with it." Rumors that P. Diddy was going to buy the place persisted, but were denied. And then, just a few weeks ago, their lawyer finally make it public that they are in fact ready to sell.
The Diddy Rumor may be quashed, but Montauk citizens should be weary: The Surf Lodge's current owners are no Sean MacPherson (hotels The Jane, The Bowery, and The Maritime) or Andre Balazs of The Standard (who just took the Cooper Square Hotel off of its former management's hands). If those guys took over the place, watch out: Worse than attracting a celebrity crowd, they know how to work their way around pesky problems like concerned (read: pissed) citizens in order to open their hotels, whose nightlife destinations people will clamor (in accordance with regulations, of course) to get into. No doubt, though: the fate of the Surf Lodge continues to be one hell of a ride.
fkamer@observer.com | @weareyourfek