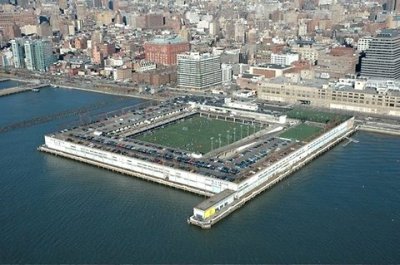 The Major League Soccer (MLS) association is looking to expand and include a 20th team, to be based in New York (the Red Bulls don't count).
The league has surveyed nineteen possible locations in the city and narrowed the list to a dozen with Flushing Meadows Park in Queens and Pier 40 on the west side of Manhattan taking the lead, The Times reported.
Officials from the league and Hudson River Park Trust sat down last Thursday to discuss the plausibility of a stadium and its potential size at Pier 40:
Though M.L.S. has several designs, any stadium at Pier 40 would take up about nine acres, seat 20,000 to 25,000 fans and include youth soccer facilities. Trying to expand the size of the pier would probably be very problematic for environmental and political reasons.
The stadium is in the very early stages of development, having to figure out the way around several obstacles, The Times notes: repairing the pier (about $100 billion), finding money to build the stadium, community outcry over the destruction of the older soccer fields, and, of course, finding owners for the new team.
The Park Trust is looking for ways to turn around its declining park revenue, which have dropped from $8 million to $5.5 million in recent years because of worsening conditions and appeal at the piers.
Madelyn Wils, the trust's president, noted in a statement that "[The Hudson River Park Trust is] still actively engaged in our process, and are optimistic we will find creative community-based solutions for Pier 40 as well as the entire five-mile Park."
mewing@observer.com