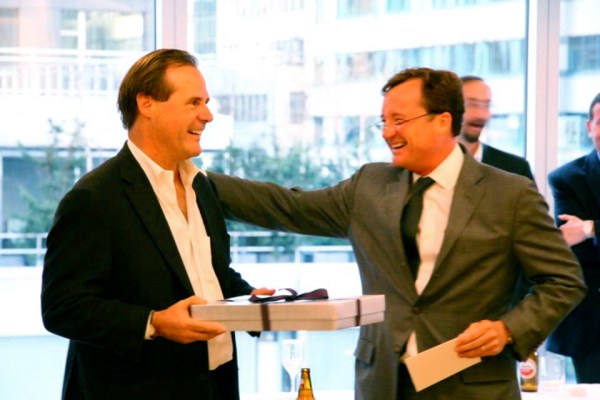 Hines New York chief Tommy Craig's meeting downtown ran an hour longer than expected yesterday, leaving everyone back at the the 499 Park headquarters a little bit more tippled than expected but otherwise thrilled when Mr. Craig walked through the glass doors to his surprise 30th anniversary party.
There, Mr. Craig was presented with a tailored Oxford suit from Bergdorf's by Chris Hughes, Hines' East Region and Capital Markets CEO on behalf of the company and its humble leader Gerald Hines. Last year, The Observer profiled Mr. Craig and the firm, dubbing them The Bespoke Builders. According to a spy, it was that article  that was the inspiration for the gift.
"Thirty years passes by in a heartbeat when you're doing something you love, but a bespoke suit—hey, that's forever," said a very surprised Mr. Craig.