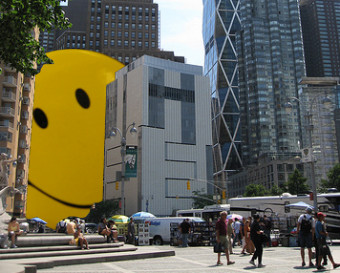 We bet all Walmart wants to do right now is sink down into one of its faux leather recliners and watch some stupid rom-com on a $199.98 flat screen. It's been kind of  a rough weekend for America's favorite mega-retailer.
First, there was the New York Times story about executives hushing up a vast Mexican bribery conspiracy to win market dominance. And now, in celebration of Earth Day, a local opposition group is going after the company's environmental record.
Walmart Free NYC is calling on Mayor Michael Bloomberg and the Related Companies to withdraw support for the mega-retailer's first store in the city—Walmart is currently in advanced lease negotiations with Related for a 150,000 square foot space at the Gateway II shopping center in East New York.
"With such far-reaching failures on sustainability, including financial support for climate change deniers, Walmart is already undermining Bloomberg's environmental reforms, and [Steve] Ross's green developments," Walmart Free NYC director Stephanie Yazgi said in a statement. "Bloomberg and Ross should stand up to Walmart."
The anti-Walmart group points to a recent report from Food & Water Watch that accuses Walmart of stocking shoddy products, multiplying its waste and pollution, lagging on renewable energy, backing anti-environmental politicians, undermining local producers, degrading the organic designation, voraciously consuming land, and industrializing the food system.
"If allowed in New York City, Walmart would undermine efforts to create a healthier and more fair food system," said Eric Weltman, Senior Organizer for Food & Water Watch. "Walmart has sent mailers to city residents featuring images of organic apples, but there's nothing healthy or appetizing about what the company really stands for."
Some of the accusations, like industrialized food production, are kind of hard to pin solely on the corporate behemoth, but cheap, mass-produced merchandise is pretty much Walmart's calling card and "voraciously consuming land" is also hard to deny, referring, as it does, to the company's sprawling, warehouse-like mega-stores.
The company did not respond for a request for comment, but we'd guess they'd probably point us towards their 2012 Global Responsibility Report, which, according to the company's website "documents Walmart's steps toward becoming a more sustainable, responsible company and building meaningful, long-term change."
Will Walmart really undermine the sustainability initiatives of Related and the Bloomberg administration? Related and Bloomberg don't seem very worried. Neither camp has responded to the coalition's call to action. But then, Related is probably still pissed off about the 7,200 postcards that the anti-Walmart group sent to residents in all its 26 developments this past February.
Meanwhile, local officials are already calling on New York to turn its back on Walmart for good, following the bribery scandal revealed by The Times.
"A company that tries to bribe its way into a community has no place in New York City," Manhattan Borough President Scott Stringer said in a statement. "Once again Wal-Mart has shown itself to be a bad corporate actor and a bad neighbor, a company whose black marks already include predatory pricing and blatant disregard for the rights of working men and women."
Stuart Appelbaum, president of the local retail workers union that has been one of Walmart's chief critics in the five boroughs, called for a full accounting of the company's political spending in the city in light of the latest news, including an investigation by any relevant local authorities. " Walmart has spent millions on quote philanthropy and lobbying to enter New York City in the past couple of years," Mr. Appelbaum said. "These so-called donations and contributions have been the core of Walmart's campaign to break into this coveted urban market."
"New Yorkers have a right to know what Walmart has done, and spent, to buy its way into the city," he added. "How many checks were cut that have yet to be disclosed?"
Update 4/23: A Walmart spokesman directed The Observer to a lengthy statement online denying the allegations of The Times story.
kvelsey@observer.com