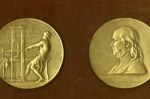 In a piece entitled "The 2012 Pulitzer Prize Winners: Who's Who," it would seem The Daily Beast—our time's great chronicler of overwrought ceremonies in which people are celebrated like accomplished swine and/or oversized root vegetables—has inexplicably published the winners of the 2012 Pulitzer Prizes, an entire hour before the rest of the world gets them!
And who, pray tell, pulled the Pulitzers?
The New York Times! All of them!
Except, not:
This is what happens when a trigger-happy blogger attempts to head off the competition, armed with a form post, a 'Publish' button, and SEO blackmagick: You get Internet Egg all over your face.
Even more, almost half an hour after Politico blogger Patrick Gavin noticed the page, it's still live on The Daily Beast's site.
On that note, The Daily Beast is probably not going to take home that 'Breaking News Reporting' Pulitzer. Bookies, adjust your odds accordingly.
fkamer@observer.com | @weareyourfek