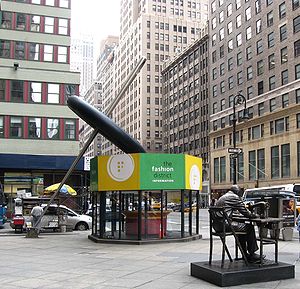 The Garment District is turning around! Well, kind of.
The Fashion Center Business Improvement District released a report last Thursday that showed an economic gain in the dingy hood, Crain's reported. But the jobs aren't in fashion, mostly coming instead from art studios, hotels, restaurants and film.
This year alone, five hotels are slated to open in the neighborhood with another five to follow in subsequent years. The charge is led by the Holiday Inn, which is opening a Holiday Inn on Eighth Avenue and a Holiday Inn Express on West 48th Street, and by the Marriott, which is also opening new outpost in the area. In addition, the Beer Authority pub recently opened at 300 W. 40th St., while Italian eatery Casa Nonna debuted on West 38th Street last year.
The district is home to just over 77,000 jobs–a 5 percent increase since 2006. Crain's also noted that this is the first time since 2007 that "non-fashion jobs in the district outnumbered fashion jobs." So they'll just have to call it the Jobs District?
The increase hangs in the drop shadow of the massive exodus of fashion brands last summer, including Oscar de la Renta and Vera Wang. So it's hard to tell if this is good news for the neighborhood or bad. The designers would certainly think so.
mewing@observer.com