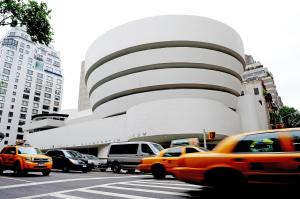 On the weekend of May 5, the Guggenheim museum will participate in the Partners in Preservation program, supported by American Express and the National Trust for Historic Preservation, in hopes of receiving a $250,000 grant that will go toward restoring the museum's front doors, which, like the rest of the museum, were designed by Frank Lloyd Wright.
The program participation means that the museum will offer free architecture tours of the building that weekend. The decision to restore the doors came by popular vote and is explained in a video at the Guggenheim website.
Thanks to Gothamist for pointing us to this.