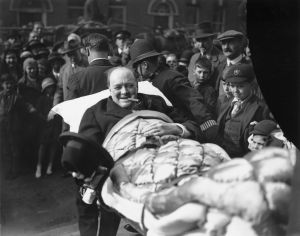 In June, the Morgan Library will host a show titled "Churchill: The Power of Words," a celebration of the British prime minister's Nobel Prize-winning speeches and writing.
However, those things will not be the only items on view, according to DNAInfo.
The exhibit also includes a copy of Churchill's report card from 1884 in which he is described as being "very bad" and "a constant trouble to everybody." There is even an old prescription written in 1932 that allows Churchill to indulge in an "indefinite" amount of alcohol — during the height of Prohibition — after he was hit by a car on a visit to Manhattan.
That prescription is also weirdly specific, reading in full, "Martinis with olives only, twists forbidden. How dare you even suggest twists? What are you, a Hitlerite?" The show runs from June 8 through September 23.