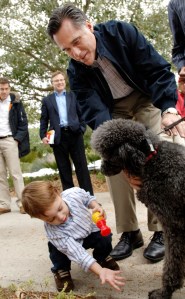 In an interview with Diane Sawyer on ABC News last night, Mitt and Ann Romney addressed one of the more persistent topics of this presidential campaign—the infamous 1983 road trip when they strapped their dog, Seamus, to the roof of the family car. Ms. Romney told Ms. Sawyer the Irish Setter "loved" riding on top of the car, but The Politicker has uncovered new information indicating the Romneys may not have been honest about the canine controversy.
Back in January, a tipster told us that one of the Romney sons said that rather than spending the rest of his days in California, as the family has claimed, Seamus actually ran away after the rooftop road trip.
Ms. Romney has previously said that, following the trip, the dog lived to a "ripe old age" in California, with Mr. Romney's older sister, Jane. However, Jane Romney's ex-husband, Bruce H. Robinson, told us that can't be true.
"That's not correct," Mr. Robinson said of Ann Romney's explanation of what happened to Seamus.
Seamus's story first emerged in a 2007 Boston Globe profile of Mr. Romney, which revealed he put the dog into a carrier strapped to the roof of his car for a 12-hour drive to the family vacation home in Canada. During the trip, the dog defecated on himself and Mr. Romney responded by hosing down the car and putting the dog back into his case. The story sparked a fluffy kerfuffle, inspiring jabs from the Obama campaign, persistent protests and a stealth PAC backed group, Dogs Against Romney, dedicated to keeping the story in the news.
Mr. Robinson, a doctor and nephew of the late president of the Mormon Church Gordon Hinckley, married Jane Romney in 1958. In 1968, he flew to France to care for Mr. Romney after the future White House hopeful was nearly killed in a car crash while working as a Mormon missionary. Mr. Robinson told us he and Jane Romney did indeed take Seamus to live with them in California, but that it was before 1980 (the vacation in question happened in 1983), and they gave the dog back prior to the notorious rooftop road trip.
Mr. Robinson said Mitt and Ann Romney gave Seamus away because they "couldn't handle" the dog, which Mr. Robinson described as "a wanderer" who had a propensity for running away.
"They had a couple of their little boys at that point," Mr. Robinson said. "So they gave him to us."
Mr. Robinson said he can't recall the exact year Seamus came to live with him and Jane, but he's sure it was well before the roof ride.
(The Romney campaign did not respond for comment by publication time, and Jane Romney could not be reached.)
"We were living in the Sacramento area, and so, Jane and I, in the 70's, I'd say '78 or so, but I'm not 100 percent sure about that," Mr. Robinson said. "So, we took care of Seamus, a beautiful, magnificent dog. We had three other dogs of our own, but we had an acre of property overlooking the American River, so we had lots of land to take care of these dogs and for them to roam around in."
Mr. Robinson said he's certain they gave the dog back to the Romneys when he and Jane got divorced in 1980. At that point, Jane went to live in Southern California, and Mr. Robinson said she was unable to "handle the dog" on her own.
"We had him for three or four years, but I couldn't swear on that exactly how long it was, but it was years anyway," Mr. Robinson said. "Then we gave him back to Mitt again and I think, actually Jane and I broke up. We got divorced in 1980, so I think, at that point, she couldn't handle the dog anymore and I think that's when she gave him back to Mitt, sometime in the period of time after we separated. So, Mitt ended up with the dog again, and then, this episode that has been so widely popularized throughout the country."
During the time he and Jane had custody of Seamus, Mr. Robinson said the dog had a history of absconding.
"He ran away from us a couple times, but we tracked him down and the police reported him. He had a tag on, of course, you know, so they were always able to identify him and bring him back," Mr. Robinson said. "He was a delightful dog, but he was a bit of trouble that way because he was wandering, a wandering dog."
Mr. Robinson reportedly had an "acrimonious" divorce with Jane Romney, but he said there is no bad blood with the family. Mr. Robinson told us he was recently invited to "a special dinner" with the Romney campaign and that he plans to vote for Mr. Romney, whom he described as "wonderful." He also said he doesn't believe Seamus' rooftop ride was abusive.
"Mitt wouldn't be actually capable of abusing anybody or anything. He's too kindhearted for that, whatever you want to say about him he's a kindhearted person," Mr. Robsinson said. "I don't think that Seamus was ever abused in any way."
In yesterday's ABC News interview, Ms. Sawyer asked Mr. Romney if he would put a dog on the roof of his car again.
"Certainly not with the attention it's received," he said.
We imagine not.