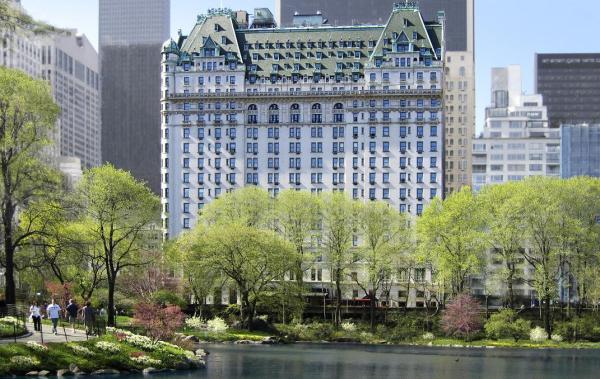 The Plaza is undergoing another tectonic shift in ownership.
The Israeli company, El-Ad, purchased the Plaza back in 2004 for $674 million and poured in several hundreds of millions to turn the decaying hotel rooms into fancy and luxurious condos. They might have appeared to be luxurious, but shoddy construction cut corners and installed low-density marble from China instead of authentic Italian stone, along with fiberglass crown moldings. Yikes!
The Plaza then tangled with a Russian billionaire over the penthouse, leading a ferocious court battle and a Briton snatching the penthouse for half of the Russian's deal.
Perhaps the New York market wasn't El-ad's speciality, but the renovations did bring in $1.3 billion in condo sales, which is a solid profit above the $1.1 billion project's price tag.
The best news for the building arrived today when the Sahara Group, an Indian firm, reportedly put down a ten percent deposit for the beauty, according to India's Economic Times:
Little over a year after he snapped up London's iconic Grosvenor House hotel, Subroto Roy is about to do a similar deal across the Atlantic.
[…]
A deal with The Plaza will confirm the Indian conglomerate's continuing fascination with overseas expansion, which has left many Sahara watchers in India curious and bemused given that the group's mainstay businesses have been finance, real estate and media.

Last year, Sahara tried – and failed – to acquire a bunch of properties in London that were put up for sale by the Marriott hotels.
According to the Post, Sahara has already made a 10 percent deposit on the property.
Their policies are strict with clauses that will terminate the Plaza's managing firm, Canada's Fairmont Hotels & Resorts, immediately. It's a tight rope to walk, but someone needs to take the reigns to turn the Plaza around.
mewing@observer.com